AirAsia Aviation units are set to increase capacity into Mainland China, more than a month after Beijing scrapped most of its 'zero-Covid' travel restrictions.
AirAsia Malaysia and medium-haul affiliate AirAsia X on 13 February announced it was resuming flights to seven cities in China from February and March, though initial frequencies will remain below pre-pandemic levels.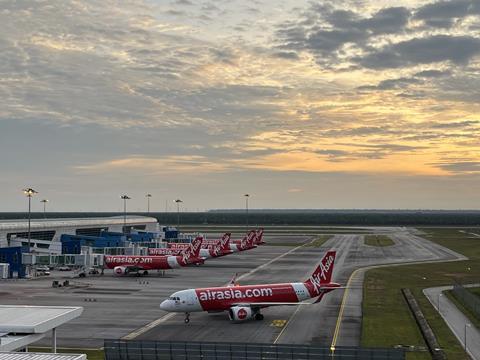 AirAsia Malaysia will resume flights between its Kuala Lumpur hub and Macau, Shenzhen, Guangzhou, as well as Kunming. Already the airline has begun flights from Guangzhou, with AirAsia reporting "strong load factors" on the route.
From its Kota Kinabalu hub in east Malaysia, AirAsia will restore flights to Shenzhen and Guangzhou.
With the resumption of flights to the four cities, AirAsia Malaysia will operate 27 weekly flights between Malaysia and Mainland China – a fraction of its pre-pandemic China network.
AirAsia X, meanwhile, will resume flights from Kuala Lumpur to Shanghai, Hangzhou and Chengdu from March, adding 10 weekly flights in total.
AirAsia Malaysia chief Riad Asmat says: "China is an integral market for AirAsia Aviation Group, where we were the largest international low-cost carrier by capacity pre-pandemic.
"[The] restart of our services will not only provide greater value and accessibility to essential travellers from Malaysia and tourists from China but will significantly boost tourism, trade and economic growth in both countries," he adds.
Benyamin Ismail, AirAsia X's CEO, says: "China will be our next primary market focus as we resume our growth strategy flying our most popular and profitable routes."
AirAsia X had previously said China's reopening will accelerate its recovery to pre-pandemic operations, amid significant traffic growth in the October-December quarter of 2022.
The ramp-up of capacity to China comes as the low-cost airline group aims to restore full pre-pandemic capacity to China by the thrd quarter of 2023.
Other AirAsia units have also restored their China networks: Philippines AirAsia, for instance, is resuming flights between Manila and Guangzhou, Shenzhen and Macau.