AirAsia's Cambodia unit will begin operations in November, as sister company Asia Digital Engineering (ADE) looks to set up an MRO joint venture in the country.
The launch date was disclosed by parent Capital A in a stock exchange filing on 20 September, where it also announced plans for an ADE unit in Cambodia.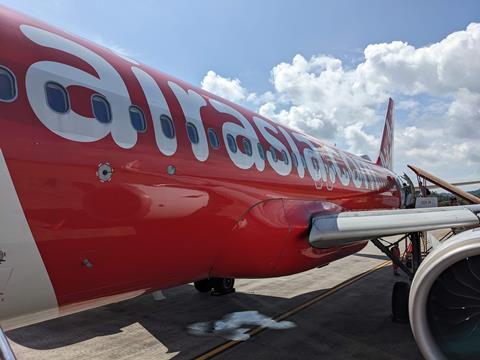 Capital A had planned to launch AirAsia Cambodia – its fifth airline unit in Southeast Asia – by the end of this year, but was coy about a specific timeline.
AirAsia Aviation, the airline business of Capital A, holds 51% shareholding in the carrier, while Cambodian firm Sivilai Asia holds the remaining 49%.
Sivilai will also invest Capital A's new MRO venture in the country, taking a 40% stake, with ADE holding the remainder.
According to Capital A, ADE will inject around $1.2 million into the new venture in two tranches, with the company using its internal funds for the investment.
Explaining its reasons for setting up the Cambodian MRO company, Capital A says that with the imminent launch of AirAsia Cambodia, there will "an opportunity for ADE to establish its operation in Cambodia by providing service to AirAsia Cambodia and other third-party airlines operating into Cambodia major airports".
It adds: "The proposal will facilitate and expedite consolidation of all of ADE's resources and assets in order to optimise more productive, sustainable levels of operation and service for the [airline units], which in turn enable Capital A to capitalise on cost-saving opportunities and potentially capture surpluses from new revenue streams generated."