AirAsia India will be the group's only unit to see fleet growth by the end of 2021, amid an ongoing investment review conducted by the low-cost group.
In slides presented at an analyst briefing following the release of its third-quarter results, AirAsia Group states in its outlook that it has "planned for reduction in our fleet count to match our expected recovery" post-pandemic.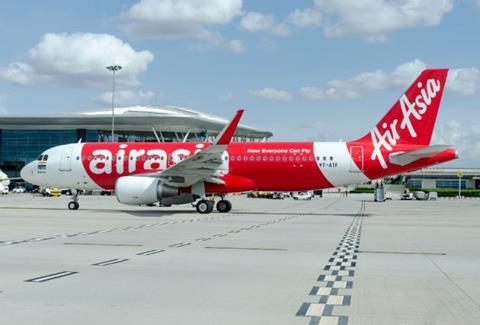 The group, comprising units in Malaysia, Thailand, Philippines, Indonesia and India, anticipates a reduction of 23 aircraft by the end of 2021 to 221 aircraft.
By the end of 2020, the group will have one less aircraft than the end of 2019. This is led by a decrease in fleet size from Thai AirAsia, as well as the now-shuttered AirAsia Japan.
Malaysia-based AirAsia Berhad, as well as Indonesia AirAsia, will have zero aircraft growth for the year, while Philippines AirAsia and AirAsia India will expand their fleet by one and four aircraft respectively.

By 2021, all of the group's carriers, except AirAsia India, will reduce their fleet size by between one to eight aircraft. AirAsia India, meanwhile, will add one aircraft to its fleet.
AirAsia India's five aircraft addition between 2020 and 2021 is reported to be Airbus A320neos, of which it currently has two examples in its fleet.
Indian media, citing an AirAsia India spokesperson, says the airline will be taking a third A320neo by December, with the remaining two aircraft arriving by 2021.
AirAsia India, a joint venture with the group and Indian conglomerate Tata Group, was also reported to have its eyes set on expansion, with the carrier targeting to operate nearly two-thirds its pre-pandemic capacity, an increase from the current 55%.
The carrier was most recently the subject of ongoing investment review, with AirAsia Group president for airlines Bo Lingam stating that "cost containment and reducing cash burns remain key priorities" for the group, which led to the closure of AirAsia Japan, and an "ongoing review of our investment in AirAsia India".
There were also rumours that the Tata Group could increase its shareholding in the carrier, effectively taking over AirAsia Group's stake. In June, group chief Tony Fernandes was reported to be considering pulling out of the joint venture altogether. AirAsia Group has not publicly commented on the matter.
The latest fleet update comes after the group said in April it was negotiating its outstanding orders with Airbus, and would be taking no new aircraft in 2020. The group's earlier estimates indicate that AirAsia and AirAsia X were due to receive 14 aircraft in 2020, and a further 29 aircraft in 2021.
Cirium fleets data shows the AirAsia Group to have more than 360 A320 family aircraft on order, the majority of them A321neos.