AirAsia India has become the country's second largest domestic low-cost operator, overtaking rivals SpiceJet and Go First in domestic market share.
According to traffic data from India's Directorate General of Civil Aviation (DGCA), AirAsia India carried about 867,000 domestic passengers in October, a 47% increase month on month.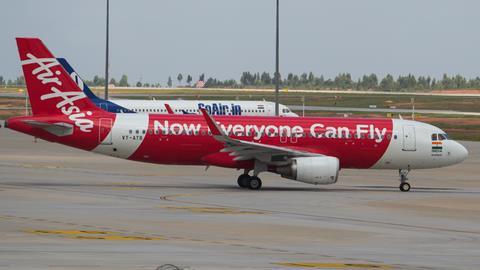 The Bengaluru-based airline takes about 7.6% of domestic market share, up from 5.9% in September.
AirAsia India was most recently fully acquired by Air India, after Malaysia's AirAsia Aviation divested its 16% shareholding, and is due to be consolidated with Air India Express by end-2023.
SpiceJet, once India's second largest carrier, remains the country's fifth largest carrier, holding 7.3% domestic market share with 829,000 passengers. Meanwhile, Go First saw domestic market share slip from September: it fell from fourth largest carrier to sixth position by market share, at 7%.
In DGCA's latest report, Air India held steady as the country's third largest operator, at 9.1% domestic share. While its share slipped 0.1 percentage points against September, its passenger numbers grew 9% month on month to 1.04 million passengers - the first time this year its numbers surpassed 1 million.
Fellow Tata Sons-owned carrier Vistara – itself the subject of merger rumours with Air India – remained India's second largest carrier, taking 9.2% of domestic market share.
Low-cost operator IndiGo was still the largest domestic operator, carrying around 6.5 million passengers, and taking close to 57% market share.
Upstart Akasa Air continues to see an upswing in passenger numbers in its third month of operations. It carried 161,000 passengers in September, nearly twice the number from September. It hold 1.4% domestic market share, up from September's 0.9%.