AirAsia Philippines aims to expand international capacity aggressively, as it announces the resumption of its Manila-Singapore service.
The Manila Nino Aquino service will restart on 1 July, says the carrier. In addition, it aims to build on frequencies to Hong Kong, Kota Kinabalu, and Seoul.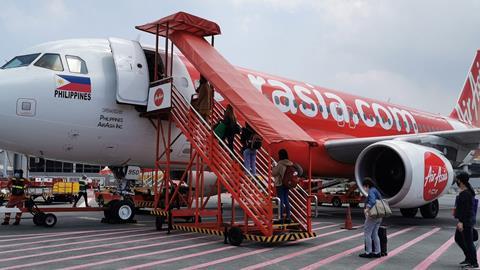 Overall, it aims to hit 70% of pre-pandemic international capacity by the fourth quarter of 2022.
"Our aggressiveness in expanding our domestic route network also manifests in our resumption strategy for international routes," says the carrier.
"This is in service of Filipino globetrotters and Overseas Filipino Workers who wish to explore the tourism and economic opportunities present abroad."
The carrier adds that the number of outbound international passengers it flew in June was nearly five-times greater than in May.
Cirium fleets data indicates that AirAsia Philippines has nine Airbus A320 family aircraft in service, with 15 in storage.
The carrier's reboot of international services aligns with the region's steady elimination of travel restrictions imposed to stop the spread of coronavirus.
Cirium schedules data indicates that ASKs provided by AirAsia Philippines in June were 75% down from June 2019.