The AirAsia Aviation Group will set up a new joint venture low-cost carrier in Southeast Asia's popular tourist destination of Cambodia.
AirAsia Aviation will control 51% in AirAsia Cambodia, with local firm Sivilai Asia controlling the remaining 49%, according to AirAsia.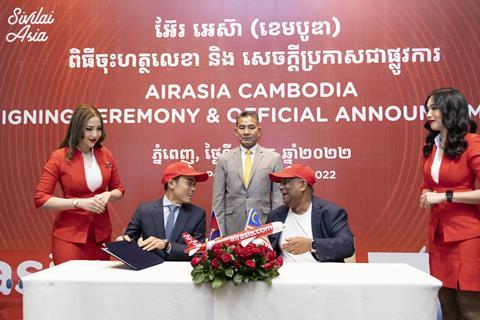 AirAsia Cambodia aims to start operations in late 2023, pending regulatory approvals.
When established, AirAsia Cambodia will join AirAsia Malaysia, Indonesia AirAsia, Thai AirAsia, and Philippines AirAsia as members of the AirAsia Aviation Group.
The joint venture agreement was signed by Tony Fernandes, chief executive of AirAsia parent Capital A, and Vissoth Nam, director of Sivilai Asia.
Fernandes says that the venture is consistent with Capital A's focus on countries in ASEAN – the Association of Southeast Asian Nations.
"Capital A continues to focus on ASEAN where we know best and our brand is the strongest," he says.
"Cambodia is the fifth ASEAN country where we are continuing our march of being the region's number one mover of people and cargo, and providing a linchpin of economic growth for ASEAN countries. The value of AirAsia's network is an insurmountable asset; it will be another flag of extensive connectivity in Cambodia and into the region, namely China, India and North Asia."
AirAsia Aviation chief executive Bo Lingam notes that a majority owned carrier in Cambodia is a natural step for the group. Before the coronavirus pandemic, AirAsia had 90 weekly flights to Cambodia from Malaysia and Thailand, and is now operating 49 flights weekly.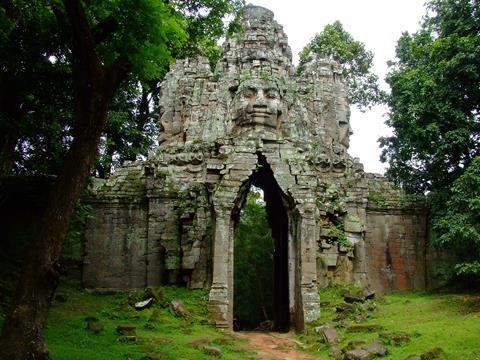 "Setting up a [joint venture] in Cambodia is in line with our ASEAN expansion strategy. We plan to operate mostly to our existing stations within the four hour radius from the Kingdom."
According to his LinkedIn profile, Sivilai's Nam is an entrepreneur in Cambodia's hospitality sector. He has also worked as an economist at the National Bank of Cambodia and at the International Monetary Fund.
AirAsia did not provide details on AirAsia Cambodia's intended fleet.
Cirium fleets data suggests that Cambodia's airline sector is small and fragmented. The country's seven airlines have a combined fleet of just 20 aircraft. The largest carrier is Cambodia Airways with six Airbus A320 family jets, followed by Cambodia Angkor Air with three A320 family jets and two ATR 72-500s
Basasaka Air, Lanmei Airlines, and Sky Angkor Airlines have two A320 family jets each, while JC International Airlines has a single A320. In addition, Cambodia Bayon Airlines is listed as having a pair of Xian MA60s in storage.