Malaysian long-haul low-cost carrier AirAsia X swung to an operating profit in its financial third quarter, with revenues climbing sharply from a year earlier.
For the third quarter ended 31 March, AirAsia X generated a net operating profit of MYR33.6 billion ($7.7 billion), according to its results statement. Revenue for the quarter came in at MYR113 million. The large net operating result stems from a write-back related to the carrier's restructuring.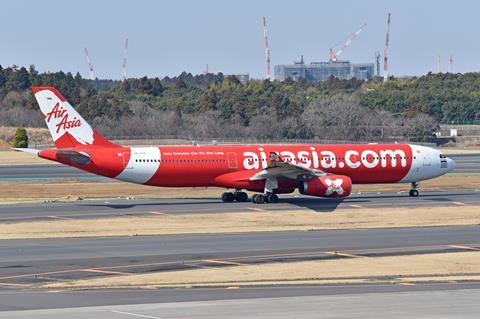 Owing to a change in its financial year, the carrier did not provide figures for the previous corresponding period in 2021. However, the carrier's results statement for the three months to 31 March 2021 show that a year earlier it suffered a net operating loss of MYR5.3 billion, and posted revenues of just MYR38.5 million.
Cash burn continues to be a challenge for AirAsia X, which has undergone a major restructuring. As of 31 March, AirAsia X had MYR43.7 million in cash and cash equivalents, down from MYR68.5 million at the beginning of the quarter.
The carrier notes that it felt the full impact of the coronavirus pandemic, which saw the majority of its fleet grounded. This resulted in AirAsia X defaulting on various contracts.
AirAsia X adds that it generated MYR198,000 from scheduled flights in the third quarter, and MYR31.2 million from chartered flights.
Cargo flights provided the bulk of third quarter revenue, contributing MYR81.5 million.
As for affiliates, Thai AirAsia X – which has applied for business rehabilitation in Thailand – generated a profit of MYR37.9 million in the three months to 31 March. Indonesia AirAsia Extra (IAAX) suffered a net loss of MYR14.9 million.
AirAsia X, which as of 31 March held 49% of each carrier, notes that it has unrecognised losses of MYR498 million Thai AirAsia X, and of MYR284 million in Indonesia AirAsia Extra. As for the Indonesian unit, AirAsia X says it has "discontinued the recognition of its share of losses incurred by IAAX as the group's interests had been reduced to zero."
The carrier notes that third quarter revenue fell MYR3.4% from the previous quarter. It adds that its cargo business revenue is under pressure from recent lockdowns in China, as well as falling yields due to more cargo capacity coming into the market.
"The company continues to seek to diversify its cargo customer base to support cargo revenues in the future."
Story edited to correct net operating profit figures in second and third paragraphs.