Long-haul, low-cost carrier AirAsia X has reported an operating loss of MYR82.5 million ($19.6 million) for the first quarter of its 2022 financial year.
The carrier generated revenue of MYR99.3 million for the three months ended 30 September, and a net loss of MYR149 million, it says.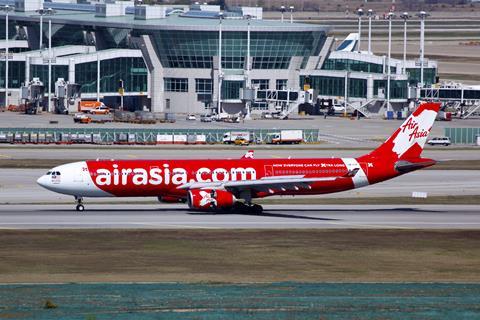 The carrier did not provide corresponding figures for the same period in 2021, given that it changed its financial year. Still, its performance improved across key metrics.
In the three months to 30 September 2020, it generated an operating loss of MYR498 million, revenues of MYR60 million, and a net loss of MYR308 million.
The airline adds that it remains largely grounded, apart from a "limited number of cargo and charter flights."
AirAsia X also provided some details about Thai AirAsia X (TAAX) and Indonesia AirAsia Extra, in which it holds 49% stakes, during the three months to 30 September.
TAAX suffered a net loss of MYR353 million, while Indonesia AirAsia Extra generated a net profit of MYR12.3 million.
The group adds that there is "meaningful uncertainty about the reopening of international borders," which affects its prospects.
Earlier this month, AirAsia X received crucial approval from creditors for debt restructuring, following a series of court-convened meetings on 12 November.
This paved the way for a restructuring and recapitalisation, which it hopes to wrap up in early 2022.
The carrier has labelled the restructuring a "wide and deep reset," that covers all creditors.
"With the completion of this exercise, [AirAsia X] will be one of very few airlines worldwide that has no gearing and a restructured cost base that is significantly below that of its competitors in the region and will be in an excellent position to capture leisure travel and cargo opportunities post-Covid," it said.