Troubled long-haul, low-cost carrier AirAsia X widened its quarterly loss, as it remained grounded amid the coronavirus pandemic.
For the quarter ended 30 September, the carrier, which recently unveiled a restructuring plan, reported an operating loss MYR498 million ($122 million), a staggering seven-fold increase year on year. It was also higher than the previous quarter's MYR323 million operating loss.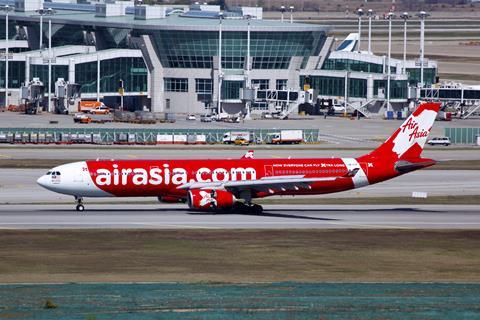 Revenue for the period plunged 94% year on year to about MYR60 million, as the carrier reported zero revenue from scheduled passenger operations. AirAsia X remains grounded amid international travel restrictions aimed at curbing the pandemic's spread.
Revenue from cargo operations and charter flights — amounting to some MYR8.5 million — were not enough to stave off any further revenue loss.
Meanwhile, expenses for the period fell 53% to MYR487 million, due mainly to its ongoing grounding, which has reduced flying activity.
AirAsia X widened its net loss to MYR308 million, compared to MYR230 million the same period last year.
The carrier gave no operational statistics for the quarter, stating: "[The] company has suffered the full impact of the Covid-19 pandemic and, with the suspension of scheduled flight operations in April, and the parking of the majority of the aircraft fleet, the performance indicators for the business are not meaningful."
In early October, the embattled carrier rolled out plans to restructure its debts — of around MYR63.5 billion — and trim its network and fleet. It said then that the restructuring — subject to approvals — was essential to its future.
Under its revised business plan, AirAsia X aims to emerge as a low-cost medium-haul operator. The airline adds that it hopes to restart operations with two aircraft in the first quarter of 2021.
Cirium fleets data shows that Air Asia X has a fleet of 23 A330-300s, 21 of which are in storage. The carrier owns five A330s and leases the rest from various lessors. It also has orders with Airbus for 10 A350s, 76 A330neos and 30 A321XLRs.
Among plans outlined to return to profitabilty, AirAsia X says in its latest financial results that it plans to "focus on core markets to improve yield". These include "focusing on mature routes in core markets with historically proven demand", as well as axing unprofitable routes. It also plans to operate a "leaner fleet size" in the future, which will necessitate the return of excess aircraft to lessors.