Malaysian long-haul, low-cost carrier AirAsia X has posted a first quarter operating loss of MYR5.5 billion ($1.3 billion) amid the collapse in its business owing to the coronavirus pandemic.
Revenue for the three months ended 31 March was MYR38.5 million, and net losses were MYR5.67 billion, according to a results release.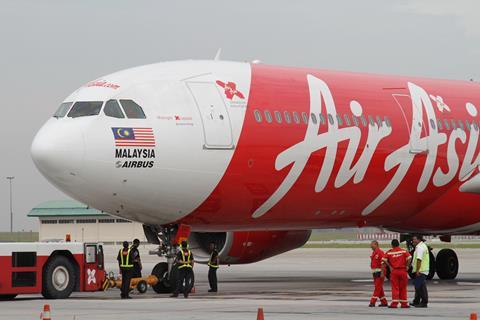 All three figures show a significant deterioration from the three months ended on 31 March 2020. In December 2020, the airline changed its financial year, and did not provide comparative figures for the first quarter of 2021.
However, last year's results statement for the quarter ended 30 march 2020 showed that operating losses were MYR158 million, revenues were MYR924 million, and the net loss was MRY549 million.
As of 31 March, cash and cash equivalents stood at MYR84.6 million, down from MYR308 million a year earlier.
The airline adds that suspended scheduled flight operations in April 2020 owing to the Covid-19 crisis, and that the majority of its fleet is parked.
On 1 June, AirAsia X will hold an extraordinary general meeting in regard to a planned share reduction exercise and fund raising. The moves are part of a restructuring plan revealed in October 2020, which includes various fund raising exercises that could raise up MYR500 million, which would be used for working capital.
Cirium fleets data shows that AirAsia X has a fleet of 21 Airbus A330-300s, of which two are in service and 19 are in storage. In addition, it has orders for 106 aircraft, comprised of 76 A330-900s and 30 A321XLRs.