AirAsia X posted an operating loss in its financial fourth quarter, as it warns of headwinds such as high fuel prices amid a return in travel demand.
For the three months to 30 June, the long-haul, low-cost operator was MYR691 million ($154 million) in the red, reversing the operating profit it posted in the previous quarter, where its earnings were boosted by a write-back related to restructuring.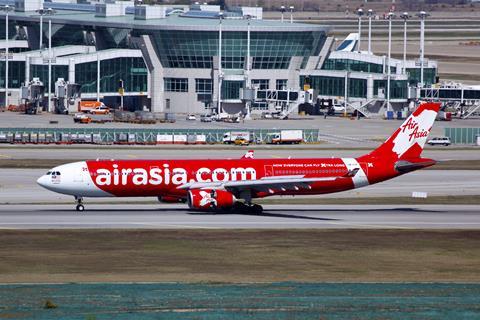 Revenue for the quarter was MYR107 million, the bulk of which – at MYR96.8 million – came from cargo services.
Owing to a change in its financial year, the carrier did not provide figures for the previous corresponding period in 2021.
However, in its results statement or the three months to 30 June 2021, AirAsia X was deeper in the red, posting an operating loss of MYR24.5 billion. Revenue for that quarter stood at MYR72 million.
The Malaysia-based airline's cash burn continues during the quarter, where it ended the period with MYR22 million. This is significantly lower than the MYR68 million it began the quarter with.
As for affiliates, Thai AirAsia X – itself in business restructuring – was MYR41.5 million in the red, while Indonesia AirAsia X, which has suspended operations, posted a MYR1.5 million loss.
AirAsia X is in the process of restarting passenger operations after being grounded during the pandemic. The carrier previously told FlightGlobal it intends to restart one-stop London operations by around Christmas, after a hiatus of over a decade. Other cities include Istanbul, Dubai and Jeddah.
"The planned routes have been taken into account on routes with high cargo loads and demand, which will contribute positively towards the financial [performance] of the company," says AirAsia X.
It warns of challenges in the current operating environment, including high fuel prices, the weakening of the Malaysian Ringgit against the US Dollar, as well as the slower-than-expected reopening of key North Asian markets like China and Japan.