AirAsia X is looking to raise up to MYR50 million ($10.9 million) through share placements, which it will use for the reactivation and maintenance of its fleet.
The medium-haul, low-cost operator says it intends to issue over the shares – amounting to around 7.8% of total company shares – to two institutional investors.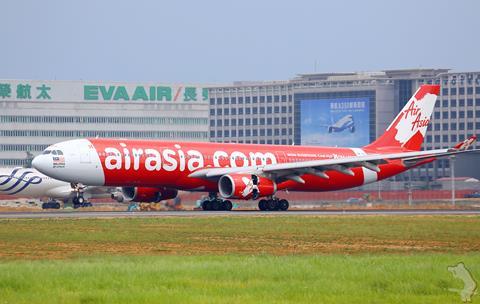 AirAsia X adds that the share placement – its first equity fundraising exercise in over eight years – is "timely and strategic", and will help "bolster its short term working capital requirements" as it recovers from the pandemic.
The share placement is the latest in a string of fundraising measures the carrier has undertaken.
"Between 2020 - 2022, AirAsia X had implemented a number of measures to address the company's financial concerns in the wake of the pandemic including its debt restructuring scheme and an array of corporate restructuring and cost containment exercises," it states.
As at May, Malaysia-headquartered AirAsia X has 11 Airbus A330s in service, with another six more in storage.
Airline chief Benyamin Ismail says AirAsia X intends to reactivate more aircraft by the end of the year. He adds: ""We are pleased to have embarked on this new era post-Covid-19, in which we witness the return of confidence in the aviation industry, which has shown clear evidence of a rebound following three long years of stall."
Says Ismail: "With this proposed [share] placement, all indicators signal the company is moving into the right direction and will have a much stronger ground for its continued and concerted efforts to revitalise its business, as the industry's recovery takes place in the near future."