The Thai and Indonesian units of AirAsia are upbeat about their prospects in 2023, noting an improving market for international travel following the end of government travel restrictions.
AirAsia Thailand expects to end 2022 with 10 million passengers carried during the year, with both domestic and international demand strong in the fourth quarter. This year's 10 million passenger figure compares with just 2.9 million passengers in 2021.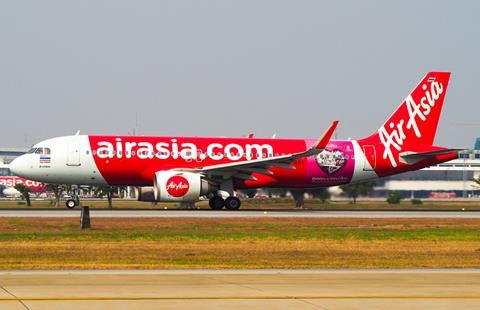 In November, Thai AirAsia enjoyed its best aircraft utilization during the year at 12 hours per day, while load factors in November hit 81%.
AirAsia Thailand chief executive Santisuk Klongchaiya cites Tourism of Thailand's estimate that 18-30 million will visit Thailand in 2023. He also expects China – Thailand's main tourist market – to start scaling back coronavirus travel restrictions in the first quarter of 2023 and establish a quota for inbound flights.
With the possible return of China, he expects the carrier, which operates 53 A320 family jets, to carry 20 million passengers in 2023.
Separately, an Indonesia AirAsia presentation states that demand is returning strongly. It has 16 serviceable A320 family aircraft out of 23 available jets, and aims to grow its fleet to 32 aircraft by the end of 2023.
As of November 2022, it operated 17 domestic and 16 international routes, and it aims to expand this in 2023. It will focus on routes between Indonesia and Malaysia, followed by Singapore, Thailand, and Australia.
For 2023, it aims to achieve load factors of 85%, up from 78.5% in November.
Indonesia AirAsia warns that it needs to be selective about choosing new routes, lest competition become too heated, leading to "overcapacity and fare distress."