Airlines are re-establishing direct flights to Phuket from July as the Thai government pushes ahead with a pilot scheme to reopen the island destination to vaccinated international tourists.
"Thailand is preparing to reopen to fully vaccinated foreign travellers from 1 July 2021, starting with Phuket under the 'Sandbox' model," the Tourism Authority of Thailand (TAT) said in a 7 June update.
"Pending cabinet approval, Phuket will reopen to fully vaccinated foreign travellers under the conditions that they stay in Phuket for no less than 14 nights in an accommodation establishment [with] 'Amazing Thailand Safety and Health Administration Plus' certification."
Flag carrier Thai Airways International intends, from 2 July, to operate Phuket services from five European cities: Zurich, Paris, Copenhagen, Frankfurt and London. Sister carrier Thai Smile will meanwhile begin a Phuket-Hong Kong service, at four-times-weekly frequency, on 1 July.
Dutch airline KLM has programmed four Boeing 777-300 flights per week to Phuket, via Kuala Lumpur, between 31 October 2021 and 26 March 2022.
Middle Eastern carriers are also launching services to the Thai holiday destination. Qatar Airways will serve it four times a week with Boeing 787s from 1 July. From the same date, Abu Dhabi's Etihad Airways will serve Phuket thrice weekly with 787-9s
Emirates plans to begin a Phuket service the following day, and its low-cost compatriot Air Arabia will fly Airbus A321s to the Thai resort thrice weekly from the same date.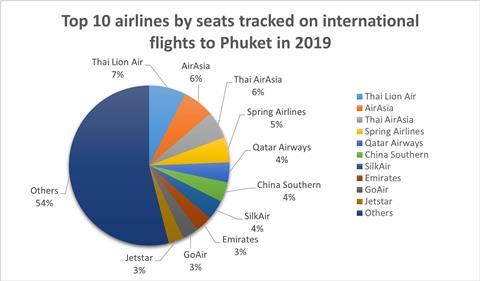 Phuket aims to inoculate 70% of its local population by 1 July. Its governor Narong Woonciew expects the island to attract 6,000 tourists from short-haul markets that month, generating income of Bt284 million ($9 million), and 23,700 from long-haul markets, bringing in about Bt2.6 billion in tourism income.
Cirium schedules data shows that only four airlines – Singapore Airlines, SilkAir, Thai Airways and Qatar Airways – served Phuket over the January-May period.
Singapore Airlines was the largest operator of flights, supplying nearly 3,700 seats, followed by subsidiary SilkAir with about 1,100 seats. Thai Airways provided about 640 seats and Qatar Airways about 350.
In 2019, prior to the pandemic, low-costs made up the top four airlines flying to Phuket, in terms of seats tracked. Thai Lion Air took the lead with 459,000 seats, followed by AirAsia with 392,000, Thai AirAsia with 341,000 and Spring Airlines with 318,000.