Indian low-cost carrier Akasa Air plans to launch international flights by the end of the year, around 18 months after it started operations in 2022.
Airline chief Vinay Dube also confirms that the airline intends to place a "much larger" aircraft order by year-end, with the 737 Max 8 expected to be the mainstay of the fleet in the near-term.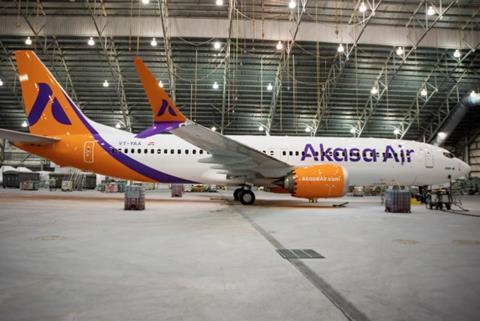 Dube, speaking to FlightGlobal at the CAPA India Aviation Summit in Delhi, says the airline has yet to determine which international points it will serve. However, he notes the "many opportunities" in the surrounding region, including the Middle East and Southeast Asia.
He says: "We haven't determined whether…five years down the road,…[what proportion international will be] of our network. We haven't yet given guidance on that."
Dube says Akasa will adjust capacity according to demand and profitability: "[The aircraft] assets are movable. If International is more profitable, we [can] direct a little more towards international [operations]."
Akasa launched operations in August 2022 and operates a growing fleet of Boeing 737 Max 8 aircraft. It currently flies 110 domestic flights a day to 17 cities, with a fleet of 19 jets.
By March 2024, Akasa's fleet will grow to 28 aircraft, says Dube. At the 2021 Dubai air show, the carrier ordered 72 Max 8s; deliveries will run until 2027.