Alaska Air Group lost $431 million in the third quarter of 2020, although the company insists its passenger and financial figures continue improving month by month.
In the same period a year earlier, Alaska posted a $322 million profit.
The latest three-month figure is the third straight quarter of losses for the group, coming on top of respective first- and second-quarter losses of $232 million and $214 million. It brings to $877 million total losses for the year to date.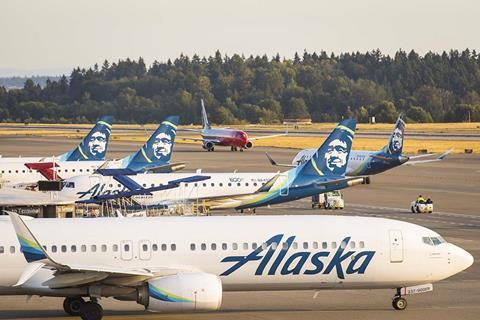 "We are gaining momentum as we climb our way out of this crisis," says Alaska chief executive Brad Tilden. "Each of the last six months has been better than the month before in terms of flights offered and passengers carried, and to date, we've kept our net debt unchanged."
The Seattle-based carrier group, which owns Alaska Airlines and Horizon Air, is burning about $4 million daily in cash – a result of the pandemic-driven collapse in demand for air travel. However, that figure is around $1 million per day lower than seen in the previous quarter.
Alaska logged $701 million in operating revenue during the third quarter, down 71% from $2.4 billion in the same period last year.
Operating expenses in the three months to end-September came in at $1.3 billion, down 35% from $2.0 billion in the third-quarter of 2019.
Alaska furloughed about 400 staff in the July-to-September period and reduced its payroll by 4,000 other workers through voluntary redundancy programmes.
Additionally, in July, Alaska received an invitation to join the Oneworld airline alliance; it expects to become a member on 31 March 2021.
Alaska closed the third quarter with $3.8 billion in cash and marketable securities, more than double its war chest at the end of 2019.
During the period, Alaska generated $1.2 billion in cash from financing 61 aircraft, including 42 Boeing and 19 Embraer jets, it says.
Alaska, like several other US carriers, has blocked middle seats amid the pandemic, a practice it now intends to continue until 6 January 2021.
Group airlines carried 3.6 million passengers in the third quarter, down 71% year on year.