Alaska Air Group lost $131 million in the first quarter of 2021, a significant improvement from the previous quarter thanks largely to pandemic-related US government aid.
The Seattle-based company, parent to Alaska Airlines and Horizon Air, generated $797 million in first quarter operating revenue, down by roughly half from the first quarter of 2020.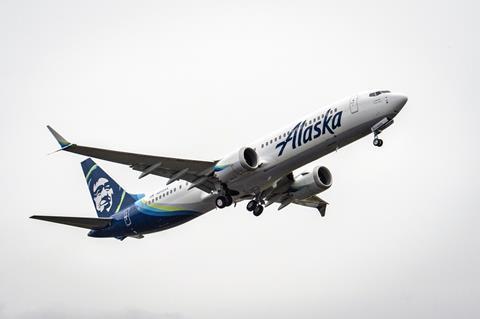 Its operating expenses were $958 million, also down by half. Expenses would have been nearly $1.4 billion if not offset by $411 million Alaska received from the US government via a payroll-support programme.
The US government requires those funds pay airlines' employee expenses.
Alaska's $131 million net first-quarter loss compares to a loss of $430 million in the previous quarter and a $232 million loss in the first quarter of 2020.
Alaska carried 4.7 million passengers in the first quarter, about half the passenger carried in the same period of 2020.
At the end of the first quarter, on 31 March, former Alaska president Ben Minicucci succeeded Brad Tilden as Alaska chief executive.
Also on 31 March, Alaska joined the Oneworld airline alliance.
Additionally, during the quarter, the company finalised the purchase of 23 Boeing 737 Max, bringing its total Max orders to 68, including four 737 Max 9s already in Alaska Airlines' fleet.