The new Italian airline being established to replace Alitalia has outlined plans to commence operations in April 2021 with an operation about half the size of its predecessor's, according to media reports in Italy.
Citing an 18 December press conference held by the new public company, which set out a five-year plan for the carrier, Corriere della Sera reports that Italia Trasporto Aereo (ITA) hopes to begin operations with 52 yet-to-be-determined aircraft, of which 43 would be for short- and medium-haul operations and the rest for long-haul routes.
More than 60 destinations would be served from next year, covering domestic and international routes, according to the report.
Alitalia had just over 100 aircraft going into the pandemic – a level the new business hopes to reach by 2025.
Some 5,200-5,500 people would be employed by ITA, around half the 11,000 who worked at Alitalia, although the report notes much depends on negotiations with unions.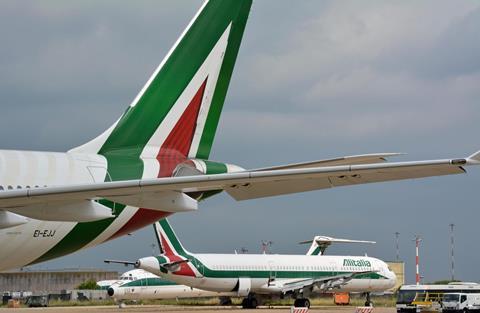 Services would end from Milan Malpensa, with the city's Linate airport preferred, the report suggests.
The main hub would continue to be at Rome Fiumicino.
According to the report, ITA chief executive Fabio Lazzerini emphasised the importance of partnerships with other operators, if the new business is to succeed.
Lazzerini – who was chief business operator at Alitalia from September 2017 until taking control of the new airline in November – is joined on the board of ITA by Francesco Caio, the former chairman of oil and gas company Saipem,
The Italian government and the European Commission will now need to approve the plans for the new airline, reports suggest.
Italy's government signed an air transport decree to establish a new national airline to succeed flag-carrier Alitalia in December. The latter had been unprofitable for years, and had entered extraordinary administration in 2017.