Alliance Aviation expects to report a A$26 million ($19 million) underlying profit before tax for the July to December period, attributing it to robust contract and charter operations in the resource sector.
This compares with A$15.5 million in the year-ago period, while approximately A$7.5 million in government grants under the Australian Airlines Financial Relief Package (AAFRP) will boost its statutory profit before tax to A$33.5 million in the current period, which the operator says exceeds consensus forecast.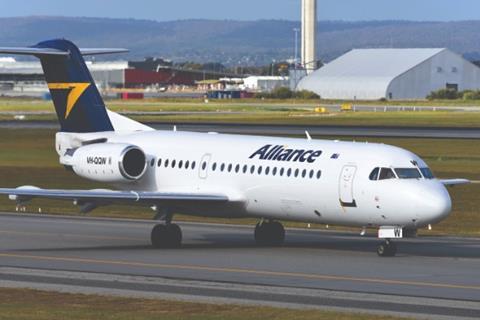 "One impact of Covid-19 has been the market shift away from regular public transport to closed charter," managing director Scott McMillan states in a 3 December disclosure to the Australian Securities Exchange.
"Clients, both existing and new, have certainly appreciated the flexibility, reliability and the efficiency of moving their workforce on closed charters over the course of the pandemic and we see this continuing."
Alliance says it has resumed limited services under a wet lease agreement with Virgin Australia, for flights between Brisbane and Emerald, while continuing to pursue growth opportunities across all revenue streams.
The operator also provided an update on its fleet expansion, having signed for 14 Embraer E190s in August.
The first aircraft arrived in Brisbane on 29 October, while four more E190s have been delivered and are undergoing maintenance and repainting prior to delivery in Australia in 2021.
The first E190 is scheduled to enter service by March, followed by another five by end-June. Consequently, any material impact on earnings from the expanded fleet is not likely until the financial year ended 30 June 2022, Alliance says.