Australia's Alliance Aviation saw revenue climb 11% to A$170.1 million ($122 million) in the first half of its 2022 financial year, but costs associated with fleet growth resulted in it swinging to a loss.
The carrier says its strong topline performance reflects record contract revenue in the six months to 31 December 2021. Contract revenue rose 21% to A$128 million during the period.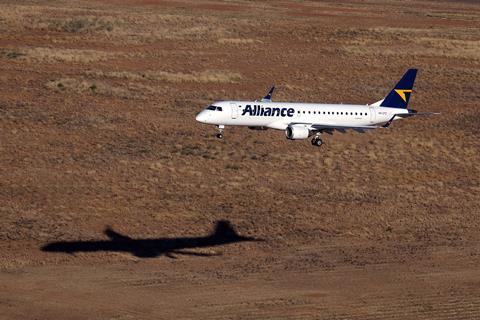 The carrier, however, swung to pre-tax loss of A$4.5 million from a pre-tax profit of A$33.6 million a year earlier. It also swung to a net loss of A$3.4 million from a profit of A$23.4 million a year earlier.
Alliance attributed the losses to investments in its next phase of growth, which includes the full deployment of its Embraer E190 fleet. It calls the E190 integration a "step change for the group from both an operational and financial perspective."
During the last six months of 2021, Alliance paid for the final six of 32 E190s, eight E190s joined the fleet, and it took on E190 costs for 78 pilots, 77 cabin crew, 36 engineers, and 25 corporate staff.
This resulted in its reporting a statutory loss. This aside, it says, the underlying result is a pre-tax profit of $20.7 million.
Alliance adds that Qantas has exercised 10 of its 18 options to wet lease E190s. The coronavirus pandemic, however, has hurt the utilisation and employment of these aircraft, pushing back revenue expectations.
As of 31 December 2021, the airline had 43 Fokkers in service – 24 Fokker 100s, 14 Fokker 70s, and five Fokker 50s – the same as a year earlier. Its E190 fleet grew to 13 examples from zero a year earlier.
By December 2022, it expects to have all 32 E190s in service.
As of 31 December 2021, Alliance held cash of A$13 million, down from A$36.2 on 30 June 2021.
Looking forward, Alliance says it is well placed to take advantage of domestic travel demand both through continued charters from the resources sector and Qantas wet leases. It notes the "significant tenders underway in resources sector."