Alliance Aviation has signed for 16 Embraer 190 aircraft and one spare GE Aviation CF34 engine from US-based Jetran LLC in a A$85 million ($65 million) deal, marking the completion of its short-term fleet expansion plans.
The operator plans to fund the transaction through a mixture of existing cash facilities, operating cash flows and debt, it said today in a disclosure to the Australian Securities Exchange.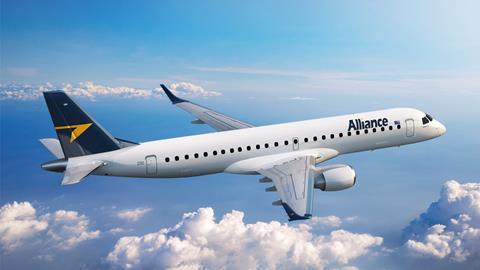 "Alliance has again taken advantage of its strong financial position and current market conditions to acquire these quality aircraft at compelling value," managing director Scott McMillan states.
"The 100-seat jet aircraft market globally will rebound quickly as carriers look to focus on total trip costs rather than traditional metrics."
According to Alliance, the aircraft were previously operated by American Airlines and are configured with 99 seats across two classes. Alliance will receive these over an 11-month period, starting with five this month and one a month until November 2021.
"This additional capacity will be deployed to capture several growth opportunities across Australia including contract flying and wet- and dry-lease operations," Alliance states.
Alliance announced on 3 August that it was acquiring 14 E190s from US-based lessor Azorra Aviation, along with six spare CF34 engines. The agreement, which includes options to acquire another five E190s, as well as a full flight simulator and other training equipment, was valued at $79.4 million.
The aircraft from Azorra were due to deliver progressively over eight months commencing September 2020.
McMillan states in the 18 December disclosure: "This transaction completes Alliance's short-term fleet expansion strategy and while the Azzora transaction included options for five additional aircraft, these options will now not be exercised."
Alliance further states that the E190 simulator in the Azzora transaction is currently in transit to Brisbane and will be utilised for most of the initial and all recurrent pilot training.
The operator expects that the E190 will be added to its Civil Aviation Safety Authority-issued (CASA) AOC during March 2021.
It states: "There is forecast to be no material impact on the [financial year 2021 (FY21)] financial performance as a result of this acquisition, with the full-year impact of the transaction expected in FY23."