Australian charter operator Alliance Aviation has secured a three-year contract extension from Agnew Gold Mining, its second such deal in one week.
The revision will see Alliance provide 12 flights per week between Perth and Leinster, which is situated northeast of Perth in the interior of Western Australia.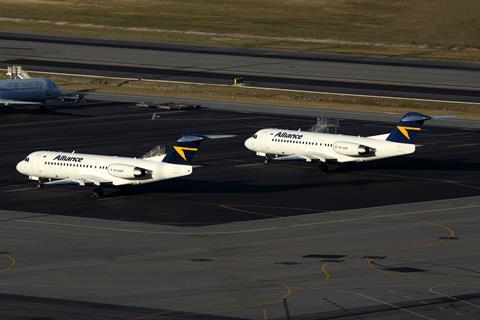 The previous contract covered eight flights per week and commenced in 2019.
Agnew Mining is a unit of Gold Fields. Alliance also supports Goldfields with charter flights for the Granny Smith mine near Laverton.
"Alliance is pleased to be able to support Gold Fields' operations across the two sites and the extension of the Agnew contract is further proof of Alliance's ability to retain clients as a result of safe, reliable and on-time air charter services."
Alliance did not state the aircraft type it will use for the Agnew Gold Mining charter work.
On 27 June, Alliance announced a six-year contract extension to operate flights on behalf of CITIC Pacific Mining Management (CPM) between Perth and Cape Preston, in support of CPM's Sino Iron Operation.
Cirium fleets data indicates that Alliance has 54 in-service aircraft, comprising 17 Embraer E190s, 24 Fokker 100s, 11 Fokker 70s, and two Fokker 50 turboprops.
The E190s mainly operate charters for Qantas Airways, which hopes to fully acquire Alliance, in which it already owns 20%