Lessor Amedeo has reported mixed fortunes regarding two of its major lessees, Thai Airways International and Emirates, with one airline paying steady rentals and even operating some of its aircraft, while the other remains grounded and makes little to no rental payments.
The insight derives from public disclosures from the lessor's London-listed entity Amedeo Air Four Plus (AA4), which manages 12 aircraft on lease to both airlines: six Airbus A380s and two Boeing 777-300ERs to Emirates and four A350-900s to Thai Airways.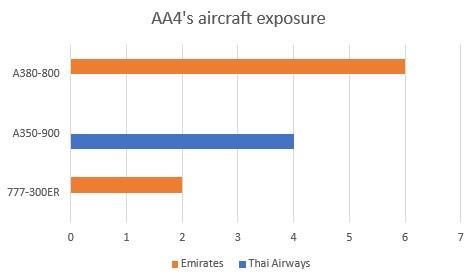 While Emirates continues to pay rent on its aircraft, it has not brought the A380s back into service, AA4 says in a 13 October investor update, though there have been some one-hour flights to keep the aircraft in "flight ready" status.
"One of the advantages we may have, although making such a prediction is a stab in the dark, is that as our first A380 comes off lease in 2026, it is possible that by then, international travel will have come back to life as people realise that Zoom is no substitute for human contact and seeing places with your own eyes," says the company's chairman Robin Hallam.
Hallam points to other carriers, which are not AA4 or Amedeo customers, to illustrate just how bad the A380 market has become.
He notes that Singapore Airlines and Qantas have placed all their A380s into long-term storage. German flag carrier Lufthansa, meanwhile, has announced that the 747-8 will be the flagship of its long-haul fleet and all its A380s will be stored.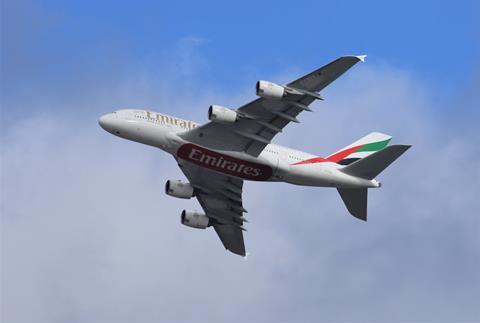 "They evidently believe there may be a market for a 450-seat aircraft, but not a 550-seat aircraft," he says.
Finally, Etihad Airways, a compatriot of AA4's lessee Emirates, has removed its A380s from its flight schedule until at least September 2021 and a return of these aircraft is "uncertain". Back in February, AA4 sold two A380s to Etihad, netting some £130 million ($170 million).
The outlook for its 777-300ERs with Emirates is relatively rosy. Those aircraft are back in service and AA4 maintains the type "remains the most successful widebody ever, with a wide user base and now a freighter conversion programme". The leases on that widebody pair are not scheduled to expire until 2028.
TIED UP WITH THAI
Although AA4 is receiving rent for its A380s, the lessor expects it will receive "little or no income" from its four A350-900s before the end of the second quarter of 2021.
Lessee Thai Airways is in rehabilitation proceedings under supervision by the country's Central Bankruptcy Court and has deferred starting operations until 1 December.
The lessor has been maintaining dialogue with the airline's operations staff and their advisors, and is also starting dialogue with its rehabilitation planners.
"Discussions have commenced with the airline around the use of the aircraft with the potential for (limited) income and Amedeo have also arranged with lenders that debt service can be limited to interest only on a three-monthly basis and are seeking to extend that arrangement," Hallam says.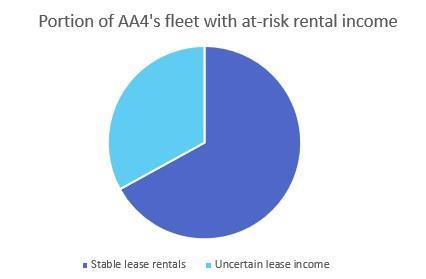 "We therefore anticipate that we may have to fund interest for a possibly longer period from our existing liquidity in a worst-case scenario whilst the rehabilitation process is completed and assuming the lenders are willing to grant principal deferrals for that period in full."
AA4 has set aside £30 million to cover 18 months of interest, as well as the potential repossession, storage, remarketing and return to service of the aircraft in 2022/23, if necessary. Hallam stresses that repossession would be "very much a last resort" and that AA4 would not look at taking such action "without the most careful thought".
Many lessors have told Cirium in recent months that repossessing aircraft in the current market is a deeply unattractive prospect. Not only would it be difficult to physically extract the aircraft given the wide-ranging travel restrictions in place across the globe, finding a new home for any aircraft in such a low-demand environment is equally challenging.
Despite its exposure to Thai Airways, AA4 remains bullish on the prospects for the new-generation A350.
"We are more positive about the A350-900 residuals because it is the favourite, alongside the B787-9, to replace the 'big' four-engine widebodies," Hallam says, adding that the type has suffered one of the lowest value impairments of all widebodies.
"We are focused on preserving [shareholders'] equity investment in these aircraft with a view to weathering the storm, hopefully reaching a satisfactory deal with a renewed and restored Thai Airways."
INTERNAL RESTRUCTURING
AA4 also hints at an internal restructuring in its 13 October update. Chairman Hallam says its corporate structure of 15 companies which was assembled when times were good is becoming difficult to justify in the current Covid-19 crisis.
Only eight of those 15 are generating income, he says, adding that "we have to ensure that each borrowing entity can meet its present and future obligations".
"The same structure, which was born in rising markets, has very substantial long-term expenses which are difficult to justify in the current crisis unless they are providing a direct and verifiable benefit to shareholders," he says.
"They eat directly into funds available for paying off our debt before leaving something for distribution to our shareholders."
He adds: "The landscape in which we are operating remains uncertain and will throw up more changes and challenges before we are finished."
Analysis by Michael Allen of Cirium