Qantas's last Boeing 747 has flown into retirement, ending a half-century career with the airline.
The aircraft, a 17-year-old 747-400ER registered VH-OEJ, took off from Sydney at just before 15:30 local time, operating flight QF7474 towards Los Angeles to deliver a load of freight, before heading to its final resting place of Mojave.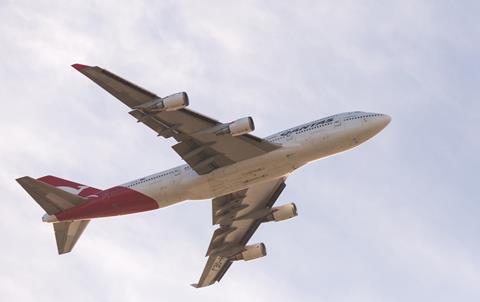 The afternoon began with a farewell ceremony for employees and members of the media, before the aircraft was towed to an airport gate to have freight loaded.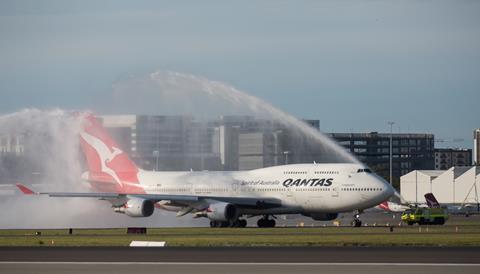 The 747 then received a water salute, before lining up on Runway 16R for its departure from Sydney — one last time.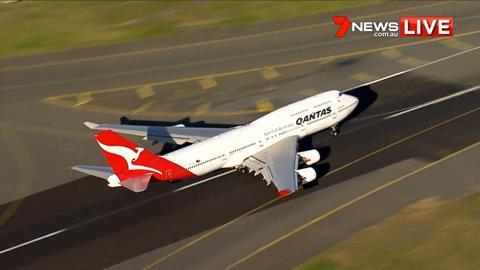 The jumbo did a flyby of the Sydney Harbour into the central business district, before heading northwards and eastwards. It also performed a low level overfly of the HARS Museum in Albion Park, New South Wales, where it dipped its wings in a final farewell to Qantas' first 747-400, VH-OJA, which is preserved there.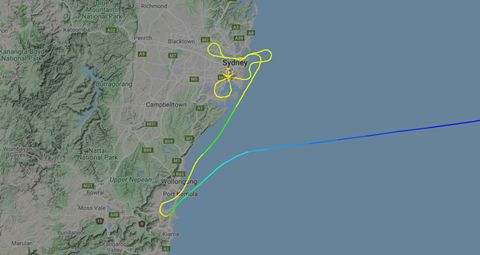 In a final flourish before it headed for Los Angeles, the aircraft flew in a pattern to draw out the Qantas 'Flying Kangaroo' logo, northeast of Sydney.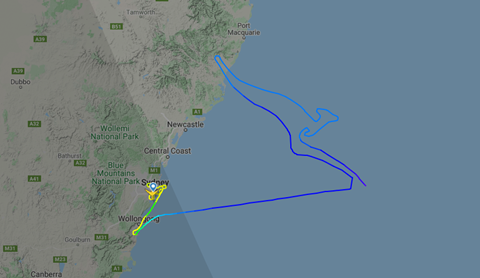 Paying tribute to the aircraft that has "carved out a very special place in aviation history," Qantas chief Alan Joyce says: "It's hard to overstate the impact that the 747 had on aviation and a country as far away as Australia…This aircraft was well ahead of its time and extremely capable."
"Time has overtaken the 747 and we now have a much more fuel efficient aircraft with even better range in our fleet, such as the 787 Dreamliner that we use on Perth-London and hopefully before too long, the Airbus A350 for our Project Sunrise flights non-stop to New York and London," Joyce adds.
Qantas first announced the premature retirement of the 747s in late June, as part of wider cost-saving measures taken to mitigate the impact from the coronavirus outbreak.
The retirement comes six months ahead of schedule, putting an end to the 747's run at the airline, which has operated the type continuously since 1971.
Cirium fleets data shows that Qantas has operated eight passenger variants of the 747. In addition, it operated a trio of 747-400Fs from 2010 to 2017.
Qantas's peak year with the 747 came in 2000, when it operated 37 examples divided among five variants. These comprised 25 747-400s, six -300s, two -200Bs, two -200B Combis, and a pair of long-range 747SPs.