All Nippon Airways is one of six Japanese companies to reach an agreement about studying carbon recycling business models, and the partners aim to streamline sustainable aviation fuel (SAF) supply chains.
"These reviews will identify challenges and future business models leveraging each company's expertise, technologies, and plant facilities for supply chains that will deliver SAF," ANA says in a statement on 2 December.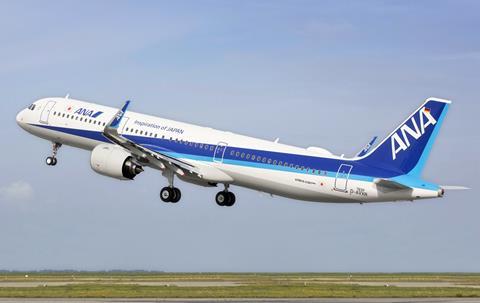 Besides ANA, the partnering entities are Toshiba Energy Systems and Solutions, Toshiba Corporation, Toyo Engineering, energy company Idemitsu Kosan, and Japan CCS Company.
Japan CCS is a government-supported private-sector entity that advances CO2 capture and storage (CCS) projects.
Under the agreement, the partners will review business models for producing SAF from CO2 that has been separated and captured from sources such as the exhaust gases of industrial emitters.
This will involve the use of the power-to-chemicals processes, powered by renewable energy sources, including hydrogen, and described by ANA as a carbon capture and utilisation (CCU) and carbon recycling technology.
The airline states: "With its high CO2 emissions reduction capability, the P2C process offers great potential as a next-generation technology for producing SAF out of CO2."
The partners are looking to supply the SAF produced to the aviation industry.
ANA also mentions in its statement the need to meet Japan's Nationally Determined Contribution for the Paris Agreement, as well as ICAO's Carbon Offsetting and Reduction Scheme for International Aviation (CORSIA).
In October, ANA became the first Asian airline to ink an SAF deal, entering a procurement deal with Finalnd's Neste, and in co-operation with Japanese trading house Itochu Corporation.
Concurrently, prime minister Yoshihide Suga's brought forward Japan's climate targets, pledging to achieve a carbon-neutral society as well as net-zero greenhouse gas emissions by 2050.