The ANA Group will make use of bellyhold cargo of flights at Okinawa island's Naha airport in its plans to revamp the island's logistics hub into a new network model.
The move, announced on 29 January, comes amid an ongoing suspension of freighter flights to and from the island through 2021, says ANA, which is working with the local Okinawa prefecture government in its efforts to develop the Naha logistics hub.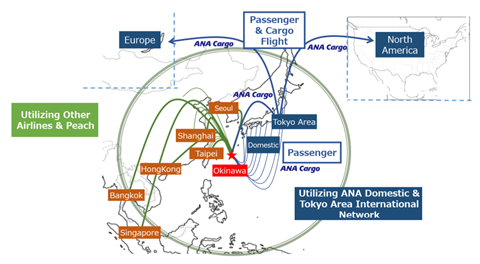 In a bid to "transform Okinawa into the node of a logistics network" which will connect international points with domestic destinations, ANA will in the interim "expand the usage" of bellyhold capacity of passenger aircraft, both within the group's carriers, like low-cost unit Peach Aviation, as well as other foreign carriers flying into Naha.
Through a management contract it previously established with operators at Naha, ANA says will "oversee cargo operations" and will "create a network utilising the cargo capabilities of passenger flights".
However, as international carriers continue to suspend their flights into the city amid the coronavirus outbreak, ANA says it will operate its freighters between Okinawa and its Tokyo hub, "to maintain the logistics supply chain until global conditions allow for the resumption of international flights".
"Once international flights resume, by utilising the cargo space of passenger flights to and from Naha airport, it will be possible to transport cargo to a wide range of destinations more frequently and to expand delivery for smaller volumes as well," the carrier states.
ANA also operates passenger flights to 20 domestic points from Naha and it will make use of these flights to transport cargo to and from the island.
The ultimate goal, states ANA, is to expand the export of Okinawan agriculture and marine products to other parts of the world, as well as to increase distribution of products from other parts of Japan to the rest of the world through the Okinawa logistics hub.
ANA's announcement came on the same day as the release of its financial results, which saw the group plunge to a record operating loss of Y362 billion ($3.5 billion) for the nine months ended 31 December 2020.
It saw revenue for the period slide 67% year on year, to Y528 billion, while expenses fell just 39% to Y890 billion.
The group is also taking a one-time impairment cost of Y76 billion, as part of business transformation efforts that sees it prematurely retire a large number of aircraft, including its Boeing 777s.
As with previous financial result disclosures, ANA blamed a collapse in travel demand — amid the coronavirus outbreak — for its dismal performance.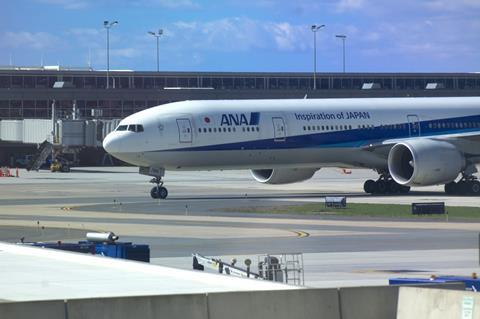 Among its business segments, air transportation performed the worst, swinging from a nine-month operating profit of Y112 billion in previous financial year, to a staggering Y348 billion operating loss.
Still, ANA believes it has turned the corner — it states in its results that it is "now seeing movement toward a recovery".