China's three largest airlines are expected to continue their loss-making streak, and anticipate record losses for 2022.
In separate stock exchange filings, the 'Big Three' – comprising state-owned carriers Air China, China Eastern Airlines and China Southern Airlines – blamed "multiple shocks" for steeper net losses, amid a collapse in passenger traffic, with capacity still less than half of pre-pandemic levels.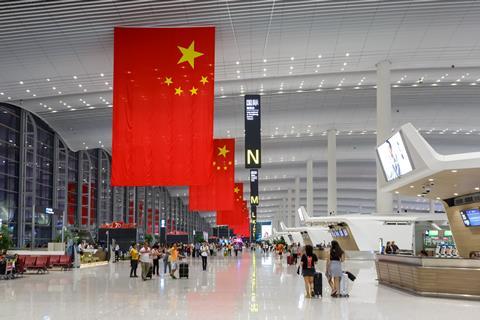 The three carriers also attributed their losses to the "impact" of the Covid-19 pandemic. They stopped short of blaming Beijing's now-scuppered 'Zero-Covid' campaign, the signature policy of Chinese leader Xi Jinping that crushed domestic travel demand and all but entirely closed the country's international borders.
China Eastern says it was "confronted with arduous challenges" in the year, including high fuel prices, as well as the depreciation of the Chinese yuan against the US dollar.
The airline, whose Shanghai hub was subjected to a long-drawn lockdown through mid-2022, is forecasting a net loss of CNY36-39 billion ($5.3-5.8 billion), far steeper than 2021's net loss of CNY13.5 billion.
China Eastern says its passenger numbers for 2022 – at 250 million system-wide – represent only 38% of pre-pandemic volumes. Traffic, meanwhile, stood at 46% of 2019 levels.
Air China was more sombre in its forecast: its hubs across China "suffered repeated impacts of the pandemic", it says.
"In particular, the capacity and total traffic in Beijing… have fallen to the lowest level since the start of the pandemic. Meanwhile, due to multiple adverse factors such as high oil prices and exchange rate fluctuations, it is more difficult for the company to improve its operation, and the invested enterprises related to the main business were also seriously affected," it adds.
The Star Alliance carrier expects a full-year net loss of CNY37-39.5 billion – the worst performing of Big Three. This compares to a CNY16.6 billion net loss incurred in 2021.
Guangzhou-based China Southern, meanwhile, is forecasting a net loss of CNY30.3-33.2 billion, compared to 2021's CNY12 billion loss.
Citing "multiple shocks", the airline states that it only operated at around 45% pre-pandemic capacity in 2022, with traffic at 36% of 2019 levels.
Private Chinese carriers are also expected to be in the red for 2022: Hainan Airlines expects to report a full-year net loss of CNY18.5-22 billion, it disclosed in a filing on 30 January.
While this reverses the net profit Hainan made in 2021, it is a narrower loss forecast compared with its bigger rivals.
The dire outlook comes a day after Chinese regulators disclosed an improvement in passenger traffic for the week-long Lunar New Year holiday in late-January. Chinese carriers transported over 9 million domestic passengers, an 80% increase year on year.