Asia-Pacific airlines enjoyed a strong international travel recovery during 2022, as travel restrictions related to the coronavirus pandemic were largely abandoned.
During 2022, Asia-Pacific airlines carried 105 million international passengers, compared with 17.4 million in 2021, according to the Association of Asia Pacific Airlines (AAPA).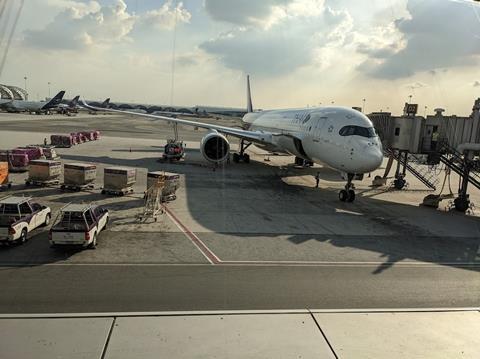 International ASKs during 2022 nearly tripled from 2021, while RPKs grew fivefold. Load factors for 2022 jumped 39.9 percentage points to 72.8%.
"2022 marked the start of a long-awaited recovery in international travel markets as governments across the region eased travel restrictions over the course of the year in a bid to welcome back visitors," says AAPA director general Subhas Menon.
"The release of pent-up travel demand drove a 507% annual increase in the number of passengers carried for the year. However, demand in 2022 averaged just 27% of pre-pandemic 2019 levels, underscoring the significant progress still required towards full recovery."
AAPA's traffic results reflect the performance of 40 Asia-Pacific airlines.
Underscoring how much things improved during 2022, in December the region's airlines carried 16.1 million international passengers, up from 2.6 million a year earlier.
December's international ASKs nearly tripled year on year, while RPKs grew nearly fivefold.
International air cargo saw softening demand in 2022 following notable strength in 2020-21.
"Reflecting falling export orders alongside worsening business and consumer sentiment, international air cargo markets weakened after a relatively steady start to the year," says Menon.
In 2022, international FTKs at Asia-Pacific carriers fell 8.2%, while capacity as measured by FATKs grew 2.2%. International freight load factors slumped 7.5 percentage points to 66.6%.
December 2022 highlighted the tough air cargo market, with FTKs dropping 20.7% year on year and capacity as measured by FATKs falling 7.7%. December's freight load factor dropped 10.3 percentage points to 63%.
"The outlook for 2023 is broadly positive, notably for passenger travel," adds Menon.
"The recovery of passenger demand is expected to progress further in the coming months, driven by strong appetite for travel. In particular, the recent easing of travel restrictions in China will further fuel demand, although the re-imposition of testing requirements for inbound travellers by some governments may somewhat slow down recovery in the shorter term."