A full-scale recovery is well underway in the Asia-Pacific airline market, according to an industry panel based in the region.
Anand Stanley, head of Airbus in the Asia Pacific, says that 2022 saw the region's air travel market really start reopening, and that the outlook in 2023 is equally positive, especially with the opening of the key Chinese air travel market.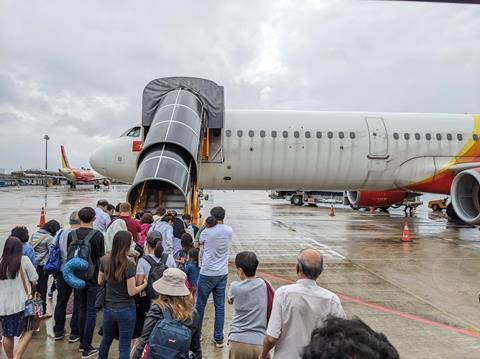 He believes that China's return will have a "domino effect" on growth not just in the Asia-Pacific, but globally. Airbus also observes that stored aircraft are returning to the skies. He believes the region's airliner fleet offers significant scope for renewal, particularly widebodies.
Stanley made the remarks during a Webinar arranged by Singapore Airshow organiser Experia and FlightGlobal. Joining him on the panel were Leslie Thng, chief executive officer of Scoot, Dave Schulte, managing director marketing at Boeing, and Experia managing director Leck Chet Lam.
Offering an operator's perspective, Scoot's Thng says forward bookings are looking solid at the Singapore Airlines low-cost unit. He notes that Scoot's capacity hit 80% of pre-pandemic levels by December 2022.
"We remain optimistic that demand will continue to be robust, because we are seeing the need for people to be able to travel for work, for leisure, or as students…China also gives us a lot of opportunity to scale up our operations."
On how Covid-19 changed passenger behavior, Thng feels that people are more inclined to use mobile devices, which makes it key for airlines to have a good digital platform to engage with customers.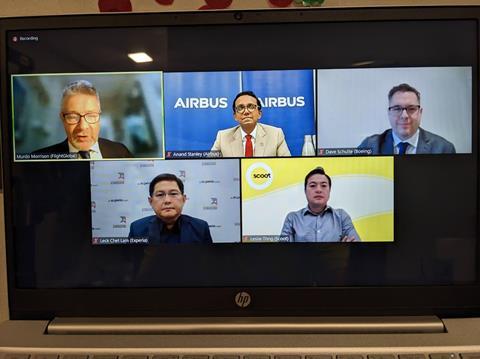 The panelists also agreed that sustainability will remain a key focus, and indeed keep growing in importance.
"Fleet renewal is going be one of the biggest drivers for improving sustainability, particularly across Southeast Asia and the rest of the world," says Boeing's Schulte. He points to the 20-25% fuel burn improvement the new aircraft provide over previous generation models.
On the vexing question of whether governments are committed to developing the expensive infrastructure necessary for the broad adoption of SAF, Schulte says it remains to be seen whether market demand or government policy will drive increased SAF usage across the region.
Leck, for his part, believes that sustainability will be a major theme of the next Singapore Airshow in February 2024 – as it was at the 2022 show. Another big theme will be "disruptive technologies" in the aviation sector.
Leck adds that another factor for industry sustainability is developing new talent, and that this is an important focus for the show.
"We also focus on sustainability in terms of the talent pipeline," he says. "We always have an Aero Campus to get the younger generation interested in aviation. We also highlight startups at the show, which also addresses sustainability in terms of innovation and technology."