The Association of Asia Pacific Airlines (AAPA) expects international travel demand to "moderate" following strong recovery seen at the end of 2022, where major markets such as Japan and China reopened their borders.
In comments made alongside the release of February traffic results for the international operations of Asia-Pacific carriers, AAPA director general Subhas Menon says travel sentiment will continue to hold up for the rest of the year, with capacity and networks restored to pre-pandemic levels.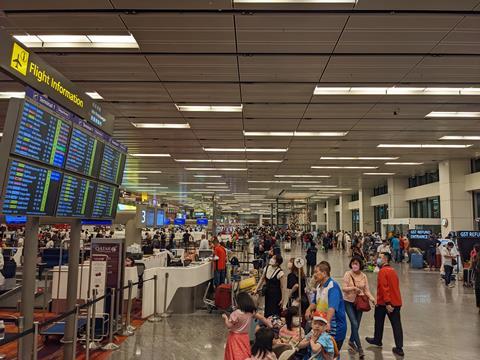 During the month, AAPA data shows strong year-on-year recovery from airlines, buoyed by the Lunar New Year holidays, as well as "strong appetite for travel".
Asia-Pacific carriers flew close to 16.9 million international passengers, a seven-fold jump against the year-ago period, when travel demand was still suppressed by travel restrictions.
Capacity was up three-fold year on year, while traffic grew nearly six times, leading to a 38.6 percentage point rise in load factors to 81.3%.
Menon states that "strong travel demand will continue to underpin recovery" for the near-term. He warns of potential operational issues arising while ramping up.
Adds Menon: "Asian airlines are proactively taking steps to reduce the strain on operations where possible. This includes intensifying recruitment of staff, returning stored aircraft to service, and continued investments in digitalising the travel process. Airlines are working closely with industry stakeholders with the aim of enhancing passenger experience, while ensuring safe and secure travel in the recovery period."
While Asia-Pacific international passenger traffic results paint a positive picture, the AAPA says the cargo market continues to battle "challenging circumstances".
The regin's air cargo demand, as measured by FTKs, fell 9.8% year on year, while capacity edged 0.8% higher.
Menon says: "Air cargo markets continued to weaken amid challenging circumstance. Inflationary pressures and worsening economic conditions weighed down on spending affecting demand for air shipments. The first two months of the year saw a 15.5% fall in air cargo demand for Asian carriers.