Asiana Airlines swung to a record operating profit in the first quarter of 2022 as revenues jumped sharply on the back of a strong cargo market.
Operating profits for the three months ended 31 March came in at a record W177 billion, compared with an operating loss of W11.2 billion a year earlier, according to the carrier.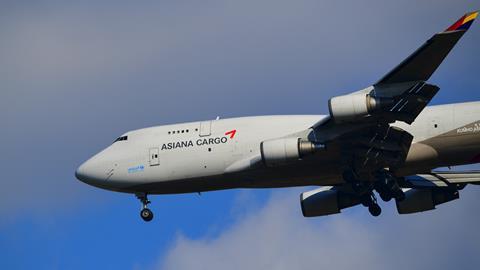 Revenues jumped 46.4% to W1.14 trillion during the quarter. The airline also managed to swing to a net profit of W36.4 billion.
Cargo revenue jumped 45% from the first quarter of 2021, as the airline focused on increasing the utilization of its cargo fleet, including the continued use of passenger aircraft for air cargo work.
The Star Alliance carrier has also focused on longer-term cargo charters. This helped quarterly cargo sales on routes to the Americas jump 57%, to Southeast Asia jump 35%, and to Europe jump 23%.
One challenge during the quarter involved finding routings to Europe that avoided Russian airspace amid Moscow's invasion of Ukraine.
Passenger revenue for the quarter doubled to W201 billion owing the gradual easing of travel restrictions both domestically and internationally.
"After the government lifted the self-quarantine for overseas inbound travellers, we plan to increase international flights to meet the increasing travel demand and resume flights to Rome, Paris, Barcelona and Istanbul," says Asiana.
Asiana's strong cargo performance reflects that of Korean Air, which has also benefited in the air cargo boom. Korean is in the process of acquiring Asiana.
Separately, Korean low-cost carrier Jin Air narrowed its first quarter operating loss to W46.4 billion from W60.1 billion a year earlier, with revenues climbing 54% to W67.5 billion.
ASKs rose 13% during the quarter, and RPKs 14%. Load factors slipped marginally to 76.9% from 77.5% in the first quarter of 2021. It notes that aviation fuel comprised 21% of its expenses during the first quarter, up from 13% in the first quarter of 2021.