South Korea's Asiana Airlines saw its second quarter operating profit more than double to W211 billion ($162 million) in the second quarter of its 2022 financial year.
Revenue for the three months ended 30 June was also higher, rising 51% to W1.4 trillion, according to the carrier's financial results.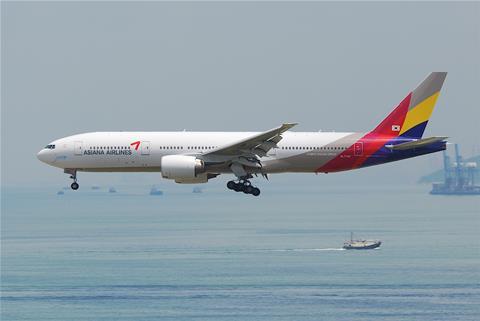 Operating expenses, however, jumped 42.9% to W1.2 trillion, and foreign exchange losses of W328 billion contributed to a net loss of KRW92 billion, compared with a net profit of W63 billion a year earlier.
The carrier said that passenger demand greatly increased in the quarter compared with a year earlier, but indicates that this was offset by higher fuel and maintenance costs.
In the second quarter, domestic ASKs fell 7% year on year, while RPKs grew 5%. Domestic load factors rose 10 percentage points to 89%.
On the international front, ASKs jumped 49%, and RPKs grew more than five-fold. International load factors also shot up 22 percentage points to 79%. This is consistent with the gradual lifting of international travel restrictions related to the coronavirus pandemic.
On the cargo front, international ATKs fell 11% and RTKs were down 16%. The freight load factor also fell five percentage points to 93%.
Second quarter international freight yields, however, jumped 38% from a year earlier. Asiana attributed the strong cargo performance to continued international supply chain challenges and strong sales prices.
As of 30 June, the carrier's fleet comprised 80 aircraft, comprising 64 passenger aircraft and 16 freighters, compared with 82 aircraft a year earlier.
During the year, an Airbus A330F and Boeing 747F were retired, while an A350-900 that had been temporarily configured for cargo services was returned to passenger use.