Asiana Airlines' fourth-quarter profits fell despite a rebound in travel demand, as rising costs outpaced an increase in revenues.
For the three months to 31 December 2022, the South Korean carrier reported a W124 billion ($95.5 million) operating profit, down nearly 42% year on year.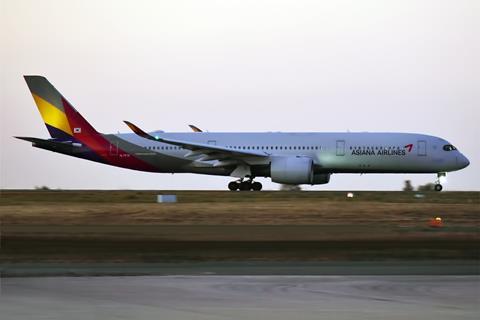 Quarterly revenue stood at W1.55 trillion, up about 15% year on year. Asiana attributes the increase to a return of international travel.
Operations to Southeast Asia and Europe saw "accelerated recovery", with revenues from these regions seeing the sharpest increase. In all, international travel revenue jumped five-fold year on year, as South Korea eased its remaining travel restrictions.
However, a slowdown in cargo demand offset any further revenue increase: Asiana disclosed a 43% year-on-year decline in cargo earnings. The Star Alliance carrier blames softening of demand from North America, as well as a weaker Korean Won, for the poorer performance.
Quarterly expenses rose 25% to W1.4 trillion, outpacing the increase in revenue. The airline saw its fuel costs double year on year, amid a rise in fuel prices coupled with an increase in flying activity.
Other operational costs – including maintenance costs and airport-related charges – were also up against the 2021 fourth quarter.
On a full-year basis, Asiana saw its operating profits rise 63% to W741 billion. Full-year revenue was up 37% year on year to W5.63 trillion, while costs rose 34% to W4.9 trillion.
The airline, the subject of an acquisition by compatriot Korean Air, ended 2022 with 77 aircraft in its fleet, five aircraft fewer than 2021. It removed six aircraft – comprising four Boeing 767s, one 747 freighter, as well as one Airbus 320 – while taking delivery of one A321neo.