Asiana Airlines — most recently the subject of an acquisition by rival Korean Air — swung back into the black in its third-quarter earnings, helped by an uptick in cargo revenue and a steep reduction in costs.
For the quarter ended 30 September, the carrier eked out an operating profit of W5.8 billion ($5.2 million), reversing the W45.1 billion loss it made during the same period last year.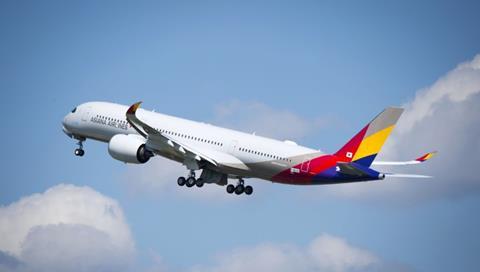 Revenue fell 53% year on year to W731 billion, led mainly by a collapse in passenger travel demand, which plummeted 83% year on year.
Broken down by network, international passenger revenue saw a sharp 87% plunge year on year to W122 billion, while domestic passenger revenue fell 42% to W50.3 billion.
However, any further decline was offset by a 54% increase in cargo revenue to W485 billion for the quarter.
Expenses declined 55% year on year to W725 billion, which Asiana notes stemmed from reduced flying activity.
The Star Alliance carrier also swung back to a net profit of W2.3 billion for the quarter, reversing last year's net loss of W170 billion.
Domestic RPKs for the period slipped 27% year on year, while ASKs fell 14%. The carrier reported a domestic passenger load factor of 74%, about 13 percentage points lower compared to the same quarter last year.
International RPKs, meanwhile, plunged 93% year on year, with ASKs declining 79%. Load factor for the quarter stood at just 27%, 56 percentage points lower year on year.
Asiana's third-quarter earnings come days after rival Korean Air announced it would be acquiring the troubled carrier. The deal, worth some W1.8 trillion, ends months of speculation about who would be Asiana's new owners, after failed attempts by parent company Kumho Industrial to sell its controlling stake.