Asiana Airlines saw its operating profit fall 17.5% to W94.9 billion ($81.1 million) in the second quarter, as higher fuel costs weighed on performance.
Revenue for the three months ended 30 June rose 14% year on year to W934 billion, according to the airline.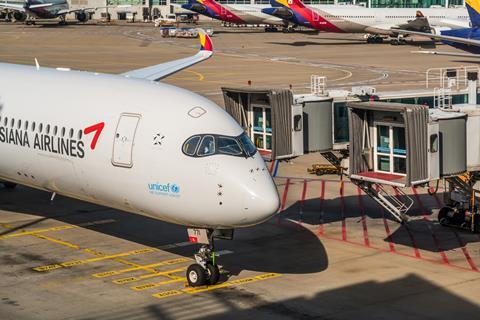 The driver behind rising quarterly revenue was the airline's cargo business, which generated revenues of W708 billion. This was an increase of 11% from the second quarter of 2020, and is the airline's strongest quarterly cargo revenue on record.
It adds that it increased cargo routes to the Americas, Southeast Asia, and Japan during the year.
In addition to its main deck freighters, the airline is operating Airbus A350s modified to carry cargo. In addition to traditional cargo items such as IT gear and e-commerce, the airline is transporting medical supplies such as diagnostic equipment and masks amid the continued coronavirus pandemic.
Foodstuff are also a key element of its cargo business, with 5,000t of cherries and 7,000t of eggs transported from the USA.
The airline's second quarter passenger revenue doubled year on year to W64.5 billion on the back of increased demand for domestic travel. Noting that vaccination rates are key to international travel, Asian is "closely monitoring" the status of international routes.
"The reason we achieved a surplus in the midst of difficulties in the global airline industry due to COVID-19 is thanks to the dedicated efforts of our executives and employees who continue to take unpaid leave and return wages," says the airline.
"We will do everything we can to prepare for the resumption of travel demand."
Cirium fleets data indicates that Asiana has 62 aircraft in service, with 21 in storage.
Asiana is in the process of being acquired by rival Korean Air.