Auckland Airport will develop a new domestic terminal, in the facility's biggest redevelopment since 1966, when the airport first opened.
The new domestic terminal will see both domestic and international flights moved under one roof, says Auckland Airport.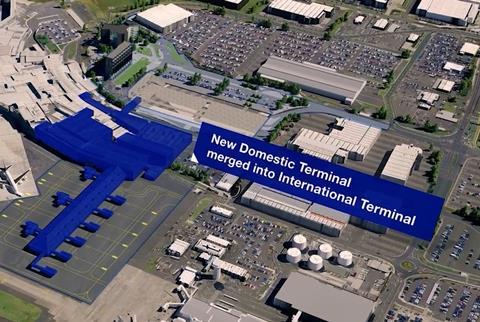 "This is a major investment for Auckland Airport, one which we have been working towards for many years," said Auckland Airport chair Patrick Strange.
"The domestic terminal is almost 60 years old and needs replacing. It's nearing capacity and it's no longer fit for purpose and hasn't been for some time. If it wasn't for the pandemic, we would already be well underway with its replacement."
The existing domestic terminal will continue operating until the new terminal is opened, which is expected in 2028-29. Auckland Airport says that airlines wanted to see the domestic and international terminals integrated into one building.
The announcement follows over a decade of discussions with airlines, with 21 concept designs reviewed.
The new terminal is part of a broader NZ$3.9 billion ($2.4 billion) construction programme that will take place over the next 5-7 years.
The new terminal will place an emphasis on sustainability, and the airport has consulted with airlines about low carbon aircraft. Each gate will feature a ground power unit to help reduce noise, and charging points for electric ground handling equipment and vehicles.