The parent company of Indonesia AirAsia plunged to the red in its full-year earnings, as its auditor cast "significant doubt" on the carrier's future.
For the year ended 31 December, AirAsia Indonesia reported an operating loss of Rp2.8 trillion ($197 million), reversing the slim profit it made in 2019.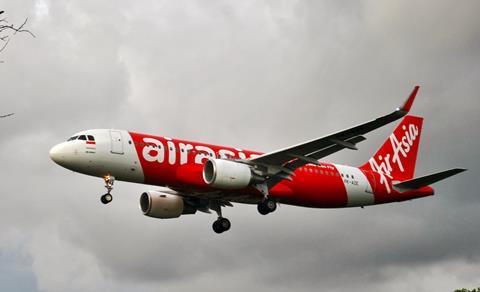 The company saw revenue nosedive 76% year on year to Rp1.6 trillion, outpacing a 34% decline in full-year costs at Rp4.4 trillion.
Auditing firm Purwantono, Sungkoro & Surja — an Indonesian affiliate of global accounting firm Ernst & Young — pointed out that on the company, along with the global airline industry, faces "uncertainty concerning the expected timing of recovery of the Covid-19 pandemic".
Furthermore, the auditors point out that AirAsia Indonesia's consolidated current liabilities exceeded their assts by about Rp4.8 trillion.
"These conditions…indicate that a material uncertainty exists that may cast significant doubt on the group's ability to continue as a going concern," the auditor adds.
The Indonesian unit of the AirAsia Group reiterated that the coronavirus pandemic has impacted its bottomline hard.
Indonesia AirAsia halted all flying between April and mid-June 2020, as the country battled the coronavirus pandemic. When flying did resume thereafter, the airline notes that it faced challenges including travel restrictions — which hindered international flying — as well as capacity caps, as part of efforts to maintain social distancing on board the aircraft.
"The Group's management has been monitoring the development of the above situations and exerted efforts to push for recovery," says the company.
To this end, it has taken several steps to reduce costs, while attempting to drive revenue up. For instance, it is renegotiating leases and other contracts, to defer payment or restructure its outstanding liabilities.
The carrier will also "optimise" aircraft capacity, operating domestic routes with better passenger load factors. Like its sister carriers in the AirAsia Group, Indonesia AirAsia will also "put additional focus" on freight operations
"Moreover, the group has obtained the financial support letter from AirAsia Group Berhad stating that they will continue to provide sufficient financial support for the operations," it adds.
AirAsia Indonesia's financial woes comes as the company's faces possible delisting from the Indonesia Stock Exchange (IDX). In early February, the IDX warned that it could delist the company if it is suspended from trading for 24 months or cannot remain a going concern.