Channel Island-based Aurigny Air Services has identified the aircraft it is selling to advanced propulsion developer ZeroAvia as a 1985-built Dornier 228.
Registered as G-SAYE, the twin-turboprop was acquired by Aurigny in 2015 and is currently in storage at its Guernsey airport base having been withdrawn from service in April 2019.
Late last month, ZeroAvia disclosed that it was acquiring a pair of Do 228s for its HyFlyer II project – one from Aurigny, the other from AMC Aviation in the USA.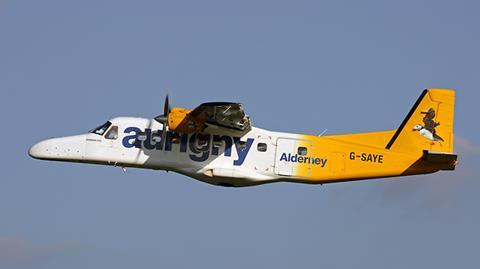 Backed by the UK government, the programme aims to demonstrate the feasibility of installing 600kW hydrogen-electric powertrains in the 19-seaters for commercial applications from 2024.
Aurigny stresses that its participation in HyFlyer II is limited to the sale of the aircraft, which it does not expect to receive back at the end of the test campaign.
However, the carrier, which is owned by the States of Guernsey – the island's government – says it is in the early stages of evaluating new propulsion technologies.
"With future planning in mind, Aurigny have been in contact with a number of possible suppliers of electric aircraft, and suppliers of other emerging technology aircraft," it says.
While these include electric, hybrid-electric and hydrogen-electric powertrains, the carrier says "it will be important to identify the most appropriate once these developments have matured further and in the light of an overall green energy strategy for [Guernsey]."
"We are keeping an open mind with regards to this technology and how in the future it will enhance our environmental sustainability whilst our operations remain fit for purpose, as they do with our current fleet."
Aurigny will retain a pair of RUAG-built Do 228NGs for short-range services to Alderney, the third largest of the Channel Islands, plus an older example (G-LGIS) as a spare aircraft.
It also uses a trio of ATR 72-600s for regional services from Guernsey to the UK, plus a single Embraer 195 jet specifically for operations into London Gatwick.