The Australian Competition & Consumer Commission (ACCC) says that Australia's air travel market is well on its way to recovering from the coronavirus pandemic, but that higher fuel prices are pushing up fares.
In its quarterly report into the country's airline sector, ACCC notes that Australian airlines flew 4.5 million passengers in April, which amounts to 89% of pre-pandemic levels.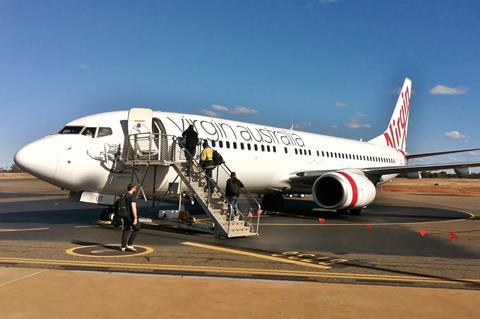 "For the first time in over 2 years, Australians were free to travel during a holiday period without movement restrictions or a significant new Covid-19 variant of concern," says ACCC.
"The recovery was strongest on Gold Coast routes, where April passenger numbers on Canberra – Gold Coast reached 193% of pre-Covid-19 figures. Flights between the Gold Coast and Melbourne, Adelaide and Sydney also surpassed pre-pandemic traffic."
For the month of April average load factors stood at 75%, although this is still below April 2019's load factor of 80%.
Unfortunately, the return of passengers coincided with reduced work forces and staff absences owing to Covid-19 cases, resulting in long lines at airports and flight delays.
"After two very challenging years, it appears the domestic airline industry is approaching a full recovery," says ACCC Commissioner Anna Brakey.
"A sustained recovery over the coming years will improve the financial health of the domestic airline industry and help secure the additional competition we're seeing from new and expanding airlines."
The ACCC warns, however, that higher fuel prices are starting to push up ticket prices: "While recent airfares have been historically low for both economy and business travellers, higher jet fuel prices and the return of demand may see fares increase."
Concerning competition, ACCC notes that newcomer Bonza is due to start flying in the second half of 2022 on 27 routes, most of which are not served.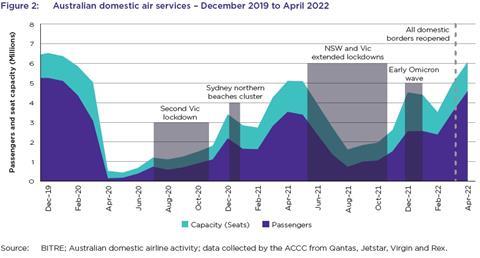 The report compares the Australian airline market unfavourably to the Canadian airline market, noting a lack of new low-cost carriers (LCCs).
"The relative lack of new LCCs in Australia over the last decade may reflect the success that the Qantas Group had launching Jetstar before many other LCCs could get established," says ACCC.
"Any prospective LCCs would have known that they would need to compete directly with a profitable, well-established rival with strong financial backing of a large airline group, potentially deterring new entry."
It observes that the last big LCC entry involved Tigerair in 2007, which mainly competed with Qantas and Virgin Australia on main trunk routes. After suffering years of losses, Tigerair was ultimately acquired by Virgin Australia in 2014.
"While also targeting price-sensitive travellers, Bonza's business model otherwise differs from Tigerair's," adds ACCC.
"While Tigerair operated on Australia's busiest routes and in direct competition with Jetstar, Bonza is predominantly targeting unserved and underserved routes with the intention of growing new regional leisure markets."