Australian low-cost operator Bonza has been awarded its air operator's certificate, paving the way for an imminent launch after lengthy delays.
In a Linkedin post on 12 January, Bonza, Australian slang for excellent or first-rate, says it is working to launch ticket sales from its Sunshine Coast hub.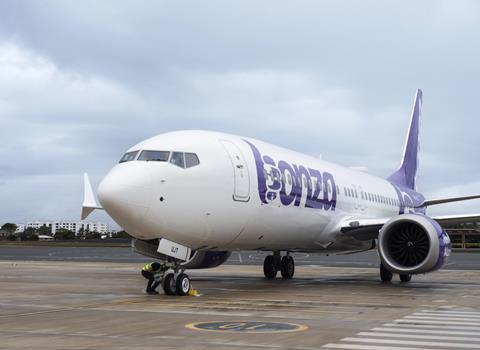 It adds: "With the approval from [the Civil Aviation Safety Authority], 2023 is set to be an even bigger year for domestic tourism. We can't wait to connect communities and in turn, stimulate new markets for Australia's domestic tourism industry."
Bonza, Australia's first independent low-cost carrier in nearly a decade, is backed by Miami private equity firm 777 Partners, which also owns Canadian low-cost operator Flair Airlines.
The airline in August 2022 took delivery of its first Boeing 737 Max 8, which came from 777 Partners' orderbook. It has three Max 8s in its fleet.
Bonza, led by airline veteran Tim Jordan, touts a different operating model from other low-cost operators: point-to-point services from secondary cities in Australia, eschewing operations within the 'Golden Triangle' of Brisbane, Sydney and Melbourne.
It previously targeted to launch in September 2022, though it faced delays in clinching its AOC from Australian regulators.