The Australian Competition and Consumer Commission (ACCC) has granted authorisation to Qantas and Jetstar for the continued cooperation with Jetstar units in Singapore and Japan.
In a statement issued 19 April, the commission says the cooperation – between Qantas and low-cost unit Jetstar, as well as with Jetstar Asia and Jetstar Japan – is "likely to result in public benefits" with a wider choice of products, enhanced services, as well as convenient flight times.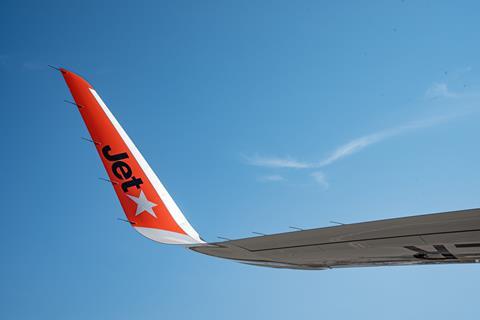 ACCC Commissioner Anna Brakey adds: "The conduct permitted under this authorisation is likely to result in little, if any, lessening of competition, particularly given Qantas and Jetstar offer complementary services and face competition from a number of other airlines in the region."
The ACCC granted a five-year extension to the coordination agreement, instead of the 10 years sought by both carriers, citing the "dynamic and rapidly evolving nature" of the air transport sector.
The present authorisation, which runs through 11 May 2028, covers areas such as flight scheduling, sales and marketing, and pricing among Qantas, Jetstar, Jetstar Asia and Jetstar Japan.
The ACCC also intends to allow for coordination – "in certain circumstances – between Jetstar Japan and Japan Airlines, which partially owns the low-cost carrier. However, it says the reauthorisation will not allow coordination between Qantas and Japan Airlines.
Separately, Singapore-based Jetstar Asia is set to resume flying to Mainland China from end-April, after more than three years since the Covid-19 pandemic began.
The carrier will launch four weekly flights between Singapore and Haikou on China's Hainan island from 29 April. Pre-pandemic, Jetstar Asia operated to five cities in China – including Sanya and Guizhou.
Airline chief Barathan Pasupathi says: "China remains a critical market and as we continue to expand our network and our fleet, we look forward to offering our customers more fantastic low fares to more incredible leisure destinations."
Jetstar Asia is the latest low-cost operator in the region to ramp up flights to Mainland China, following Beijing's decision to abruptly scrap almost all of its 'zero-Covid' restrictions. Data from Singapore's Changi Airport shows that frequencies between the city-state and Mainland China have recovered to around 40% pre-pandemic levels.