Vietnamese carrier Bamboo Airways has secured slots to operate flights to London Heathrow airport.
Bamboo confirmed a report from Vietnamese publication VnExpress that it secured rights to operate six weekly flights. It adds that it intends to fly thrice weekly from Ho Chi Minh City and thrice weekly from Hanoi.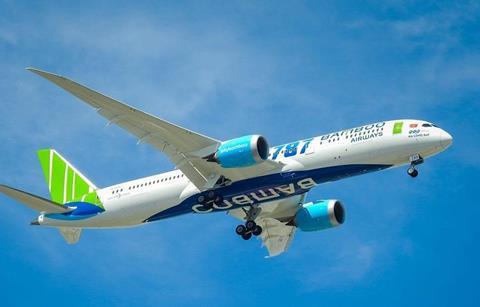 While it did not specify a date when flights will commence, it says it could operate the London flights "as early as May, under the permission of the Vietnamese government and favourable market conditions".
The flights will be operated by Boeing 787-9s, of which it has three in operation with another 10 on order.
Bamboo will be the second Vietnamese carrier to fly into London Heathrow, following flag carrier Vietnam Airlines, which operated flights to London from Ho Chi Minh and Hanoi. These flights have been temporarily suspended due to travel restrictions imposed in light of the global coronavirus outbreak.
This is not first time Bamboo has had intentions to enter the European market. In 2019, the carrier announced its intentions to launch flights between Hanoi and Prague in early 2020, though these plans were shelved amid the pandemic.
The latest route development comes nearly two weeks since it disclosed its intentions to make its debut on a local stock exchange in the third quarter of this year, and raise D6.3 trillion ($2.73 million).