Bangkok Airways aims for a recovery in revenues in 2022, as it eyes a stronger Thailand tourism market with the lifting of travel restrictions.
The airline aims for passenger revenue of Bt8.2 billion ($246 million) in 2022, up nearly half from the its revenue of Bt5.7 billion in the 12 months to 31 December 2021, according to chief executive Puttipong Prasarttong-Osoth.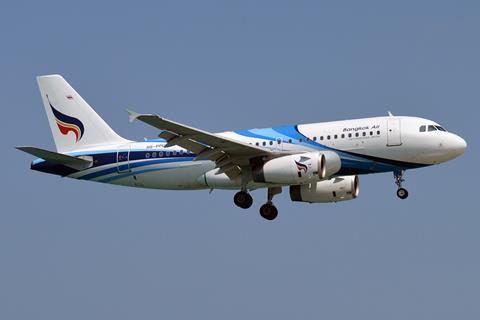 "In 2022, we forecast that the aviation sector is expected to recover about 40% due to the increase of vaccination rates, as well as a reduction in travel restrictions and easing of Covid-19 preventive measures in Thailand," says Prasarttong-Osoth.
Routes that the airline aims to restart include Bangkok-Krabi, Koh Samui-Chiang Mai, Koh Samui-Hong Kong, as well as Bangkok-Siem Reap in the third quarter. Other routes will be opened in the fourth quarter, but he warns that coronavirus-related travel restrictions could change plans.
As for passengers, the airline expects to carry 2.6 million this year, nearly five times the 536,000 it flew during a dismal 2021, which was marked by both domestic and international travel restrictions.
It hopes for a 2022 load factor of 65%, compared with load factors of 58.6% in 2021.
By the end of the year Bangkok Airways will trim its to 30 aircraft from 37 now. Five Airbus A320s will be returned to lessors, and two ATR 72-500s will be sold.
Cirium fleets data indicates that the airline now has 19 in-service aircraft with 18 in storage. Of the carriers 22 A320 family jets, 10 are in service and 12 are in storage.
As for its 15 ATRs, nine are in service and six – including its two ATR 72-500s – are in storage.
"In order to achieve the set targets for 2022, we will be taking numerous measures to stabilize the company which include various efficiency cost-saving measures," says senior vice president Anawat Leelawatwatana.
"We will reduce operation of leased aircraft upon contract expiry. We will also adjust route networks to match with travel demand, especially our Samui routes. We will attempt to have airport-related charges reduced. We will continue with adjustments of salary & benefits. We will maintain liquidity as well as reduce maintenance costs. And lastly, we will seek for government support such as requesting an extension of Excise Tax reductions."
Bangkok Airways, which relies heavily on codeshare traffic from international carriers, has been hard hit by the coronavirus pandemic. In 2021 it posted an operating loss of Bt2.5 billion, following its 2020 operating loss of Bt3.3 billion.