Bangkok Airways narrowed its second quarter operating loss to Bt493 million ($14.8 million) from Bt2.7 billion a year earlier, as it continued to suffer from the collapse of Thailand's tourism market amid the coronavirus pandemic.
According to the carrier's earnings release for the three months ended 30 June, total revenue – which includes airports, catering, and other businesses - more than doubled to Bt1.4 billion, but this is still a fraction of the Bt6.1 billion revenue recorded during the same period in 2019.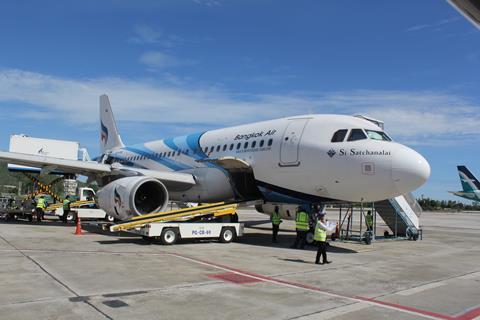 Taken separately, airline revenue was Bt212 billion, up from Bt108 billion a year earlier.
Overall net losses narrowed to Bt686 million, compared with Bt2.97 billion previously.
The carrier also cut total second quarter expenses by nearly 50% to Bt1.9 billion.
During the quarter the company operated 1548 flights, twice as many as in the April-June period of 2020, when Thailand was mostly locked down. Still, the country's third wave of Covid-19 – and more lockdowns – hurt overall demand in the second quarter of 2021. Rising coronavirus cases also caused people to postpone travel during the normally busy Songkran festival in April.
Owing to the third wave and travel restrictions, the airline cut frequencies on domestic routes from Bangkok to Koh Samui, Chiang Mai, Sukothai, Lampang, Phuket, and Trat.
During April, for example, Bangkok Airways operate 39 flights weekly on its key Bangkok-Koh Samui routing, but this fell to just nine flights weekly in May, before rising back to 14 flights weekly in June. On the Bangkok-Phuket route, it operated 11 flights weekly in April, but only two flights weekly in May and three flights weekly in June.
Aircraft utilisation remained very low, at roughly four block hours per day across the fleet.
Nonetheless, the airline carried 94,000 domestic passengers in the third quarter, up from just 28,500 a year earlier. The carrier flew no international passengers in the second quarter. Load factors also improved, rising 10.6 percentage points to 57.9%.
As of 30 June, cash and cash equivalents stood at Bt1.3 billion, down from Bt2.2 billion on 31 December 2020.
Bangkok Airways had 39 aircraft as of 30 June, one fewer than 40 a year earlier. The fleet comprised 24 Airbus A320 family jets, and 15 ATRS.