Southwest Airlines says that it lost almost a billion dollars in operating income due to the grounding of the Boeing 737 Max aircraft, as it joins other airlines in scrambling to find capacity and make up for the jet's ongoing problems.
"I am confident about the Max, and our pilots are confident about the Max," chief executive Gary Kelly tells analysts on the company's earnings call on 23 January. "The timing remains uncertain, and we are working through all that right now."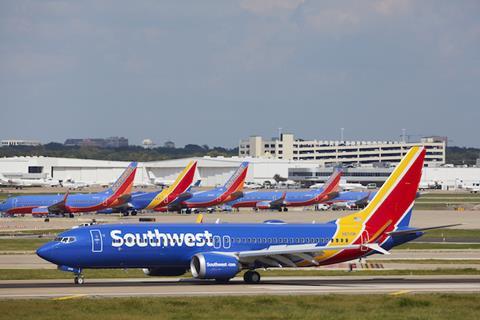 Kelly says that 2019 full-year operating profit was $828 million – or 28% - lower than had the Max been flying in the airline's all-737 fleet. "The grounding of 75 of our airplanes, or about ten percent of our fleet, presents a crisis-like challenge for our team."
The Dallas-based carrier's net profit in the full year 2019 fell to $2.3 billion from $2.4 billion in 2018. In the final quarter of 2019, net profit hit $514 million, down 21% from $654 million in the same quarter a year ago. Full-year revenues rose to $22.4 billion from $21.9 billion, up 2.1%. In the fourth quarter alone, Southwest had revenue of $5.7 billion, flat from the year-ago quarter.
The airline has taken the aircraft out of its schedule until 6 June, but will likely have to extend that as more information becomes available, executives say. In order to reduce some of the fleet deficit created by the lack of the newer generation, lower-fuel burn 737 Max aircraft, the airline is planning on postponing 7 of 18 retirements of older 737-700 aircraft this year. These will fly 2 more years, chief financial officer Tammy Romo says.
"We are also monitoring the used 737 aircraft market because seat growth is not keeping up with demand and we are losing share," Kelly says. "We plan to aggressively recapture that once the Max is ungrounded."
Currently, Southwest is not looking to lease additional aircraft, he adds. "Everything is predicated on our assumption that this is a short-lived issue, and not something that we will have to deal with for years."
Southwest currently has 34 Max aircraft in its fleet, all of which are in storage in Victorville, California. It had had expected to have about 75 Max in the fleet at the end of 2019, and another 38 deliveries of the aircraft in 2020. At the moment, all of these plans are on hold.
The airline has settled with Boeing for an undisclosed amount for the 2019 losses, but hopes to come to another agreement for 2020. Kelly says he is "pleased" with the confidential compensation agreement Southwest and Boeing have signed for last year's losses, and the airline is continuing discussions with the plane-maker.
"There were years when we had a dozen problems to solve. Right now we have one problem, and it's a serious one," Kelly says. "Dogpaddling for a year has cost us customers. It's not anything we can mitigate until we get airplanes and can grow again. Do I think we've been harmed? Absolutely. Everyone knows we will seek further compensation from Boeing," he adds.
Chief operations officer Mike Van de Ven says that the airline's 34 stored Max will have to go through some maintenance work before they are once again ready to go into revenue service. 27 further aircraft have been built and are being stored at Boeing facilities.
"So these 61 aircraft are our most reliable source of lift this year," Van de Ven says. "We can manage around 5-10 aircraft a week to be reintroduced to the operation." That said, these estimates may change as the airline assesses what will be required to get the aircraft back into service.
Manual updates, pilot training and maintenance needs of the jets may require more time than currently expected and from the time that the aircraft is re-certificated, "that will add at least a couple of months to the time to get the aircraft operating."
While the requirements for pilot and training are not yet clear, Van de Ven says the airline currently has three Max simulators, it is awaiting three more before the end of the summer, and another three by the end of the year. Assuming a 2-hour simulator training session for each pilot, that capacity will allow all of Southwest's pilots to complete the training prerequisites within a few months.
"The FAA is in control of the ungrounding process. Our plans are from that date," Van de Ven says.
HAWAII FLIGHTS
One bright spot for the company i n2019 was its ambitious and aggressive foray into the US mainland-to-Hawaii market, which it launched last March. It currently offers 28 flights between four cities in California – San Jose, San Diego, Sacramento and Oakland – and several islands in the Pacific archipelago. In addition, it has opened an extensive interisland network as a direct challenge to Hawaiian Airlines' domination of the region.
"Those routes are doing phenomenally and succeeding in every dimension," the airline's president Tom Nealon says, adding though that the ramp up has been slower than expected because of the Max and capacity bottlenecks. "These flights are creating demand that we didn't see was there. We are now seeing more connecting itineraries on the west coast, and fares are lower. That is the classic Southwest effect."
While Hawaii service is still just two percent of the airline's overall revenue, customer ratings of the service is higher than on most other routes, he says.
On Thursday, The Wall Street Journal reported that the FAA may have given Southwest preferential treatment when it authorized the carrier's Hawaii routes a year ago. The report says that a whistleblower alleged that FAA managers engaged in "gross mismanagement and abuse of authority" for "the financial benefit of the airline," according to a report from the Office of Special Counsel.
"We don't know what that's about," chief executive Kelly says on Thursday. "This is a whistleblower complaint, we don't know what the complaint is or who the whistleblower is. It certainly doesn't feel like we got preferential treatment, though." Executives say the airline went through a rigorous 14-month approval process before it began operating the flights.
"It's all a surprise to us and if there are issues, we don't know what it's about," Van de Ven added.
The FAA said earlier today that it is investigating the matter.