Bookings and fares are proving resilient to Europe's economic challenges, according to Ryanair group chief executive Michael O'Leary.
Speaking in London on 17 January, as the low-cost giant launched its UK summer schedule, O'Leary said Ryanair is "alert all the time" to factors such as high inflation, rising interest rates and fears of recession, and the impact they might have on consumer demand. But, he says, the business is so far seeing "no indication of a cut in spending".
Rather, he reports "a lot of strength in the demand picture", with Ryanair taking 2 million bookings over the weekend of 14-15 January – far above its previous record for the period of 1.6 million in 2019. He describes as "remarkable" that such strong demand is being seen when Ryanair's current "seat sale" features baseline fares that are much higher than those historically offered.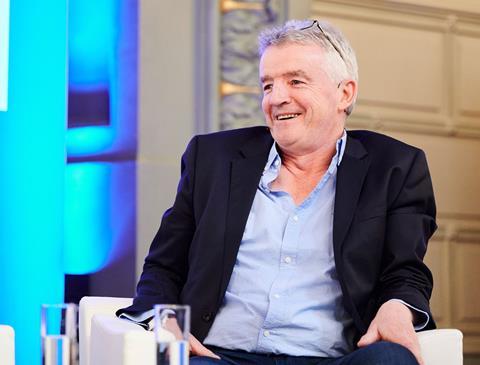 "Thus far, into the first quarter and second quarter [of 2023], while we admittedly have higher oil prices this year, bookings are strong, fares are rising and I suspect if there is no unforeseen development in Ukraine or on Covid, we're likely to see a second year of reasonably robust pricing this year – rising high single digits for the second year running," O'Leary states.
He believes post-Covid-19 'pent-up' travel demand is still a significant factor for consumers, with people keen to fly after two years of restrictions – and having the means to do so thanks to money saved during that period.
Consumers are therefore prioritising spending on travel, with spending on "bigger ticket" items reduced, he says.
Furthermore, "it's the first recession we've had in my lifetime where we've had zero unemployment", O'Leary says of key markets such as Ireland and the UK, where unemployment is low. That echoes comments from IATA chief economist Marie Owens Thomsen, who last year cited low unemployment as a reason for airline optimism regarding the demand picture, even amid fears of recessions in key markets.
The Ryanair chief cites other factors supporting strong demand and pricing, including that many of Europe's legacy carriers are yet to reinstate all their pre-Covid-19 short-haul capacity. Combined with the collapse of carriers such as Thomas Cook, overall pan-European capacity still has some way to go to match 2019 levels, even as Ryanair powers way past its 2019 capacity amid the arrival of dozens of Boeing 737 Max jets.
Further aiding the demand for pan-European travel, O'Leary highlights buoyant inbound flows from the transatlantic market thanks to the strong US dollar, which makes Europe a relatively cheap and attractive destination.
"I think that is going to continue through this summer," he states.
Moreover, Europeans are less minded to travel to North America because of the strength of the US dollar, O'Leary suggests, meaning they are "far more likely to holiday in Europe".
And with Asia-Pacific markets finally achieving significant recovery momentum, 2023 might see greater numbers of travellers from that region undertaking pan-European flights.
"There's a lot more traffic moving around while the Europeans are continuing to holiday at home," he states.
O'Leary also reasserts his belief that low-cost carriers tend to do well during economic slowdowns, as consumers become more price-conscious.