British Airways is limiting sales of tickets for its short-haul flights from London Heathrow Airport for at least one week, citing an earlier request from the hub to restrict new bookings.
Heathrow announced in mid-July that it would cap daily departing passenger numbers for the summer peak season at 100,000, to help counter the high-profile operational challenges at the airport, at which BA is by far the largest carrier. The airport suggested an average of 104,000 daily departing passengers were forecast to use the facility through to 11 September, meaning rebookings would be necessary.
"As a result of Heathrow's request to limit new bookings, we've decided to take responsible action and limit the available fares on some Heathrow services to help maximise rebooking options for existing customers, given the restrictions imposed on us and the ongoing challenges facing the entire aviation industry," British Airways said on 1 August.
BA adds that the restrictions on ticket sales will remain in place until at least 8 August.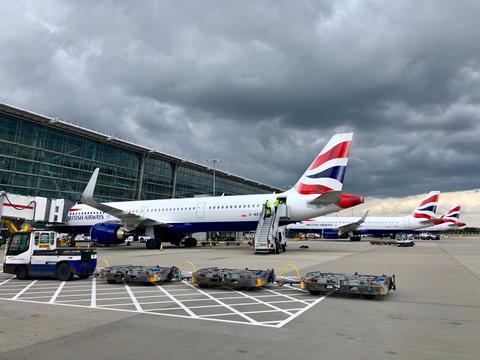 Amid sometimes public disagreements over who is to blame for the operational issues, Heathrow customers including American Airlines and Emirates Airline have been critical of the capacity restrictions. But the airport said on 26 July that caps will remain in place until carriers increase ground-handling resources to a level that matches demand.
The chief executive of BA parent company IAG, Luis Gallego, said on 29 July that he hopes the situation will improve by the end of the year, but that multiple parties needed to co-operate to increase operational resilience.
Cirium schedules data shows BA is operating more than 11,000 short-haul flights to and from Heathrow in August, with the busiest destinations in terms of seats offered being Glasgow, Edinburgh, Dublin, Geneva, Amsterdam, Athens and Rome.