China-backed Bruneian start-up Gallop Air is hoping to launch services in the third-quarter of 2024, as it looks to find backers and "local partners" – in addition to securing its air operator's certificate (AOC).
In separate LinkedIn posts over the past week, Gallop, which is backed by China's Shaanxi Tianju Investment Group, shed more light on its operating model, including a prospective network and launch timeline.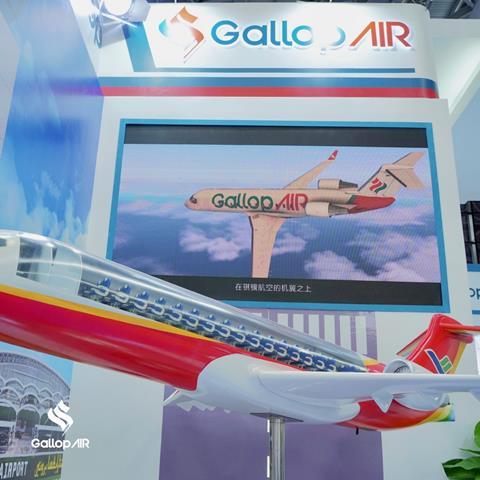 The airline signed a letter of intent in September for up to 30 Comac aircraft, in a deal worth over $2 billion. The agreement includes commitments for 15 C919 narrowbodies, making it the first foreign customer for the type.
Gallop, in its latest update, reveals that it has not yet secured its AOC – a vital step for it to commence operations – and that it was only greenlit to apply for the approval.
"[Brunei's] Department of Civil Aviation will also conduct thorough audits and assessments of our aircraft before granting type certification approval," Gallop adds.
The airline was incorporated in Brunei on 11 January this year, and is owned by a Singapore-based entity of the same name, which itself was incorporated in 2021. The latter is a wholly-owned unit of Shaanxi Tianju Investment Group in China.
"We remain open to engaging with potential local partners and investors who share our vision for enhancing regional connectivity and contributing to the growth of the aviation sector in Brunei," the airline adds.
Gallop adds that it is "on a mission" to make Brunei a "pivotal aviation hub". The airline, if it is approved for operations, will be the country's second airline, after flag carrier Royal Brunei Airlines.
Parent company Tianju had previously stated the airline could operate a "complementary business model" alongside Royal Brunei.
"With our fleet of Comac aircraft, we are set to enhance regional connectivity, offering direct flights connecting Brunei to cities in Southeast Asia, North Asia, and the Southwest Pacific regions. We believe in a shared commitment to advancing economic vitality in the region and fostering people-to-people exchanges and tourism," the airline states.
Gallop will become the second known international operator of Chinese aircraft: Indonesian low-cost carrier TransNusa, which is linked to Chinese lessor CALC, operates a small fleet of ARJ21 regional jets, and recently deployed the type on international routes.