Australian low-cost start-up Bonza has opened a second operations base in Melbourne – two months after it commenced operations – as it rolls out 11 new routes from the city.
The airline will also base two of its four Boeing 737 Max 8 aircraft in Melbourne, and kickstart recruitment for an unspecified number of roles, it states in a 30 March press release.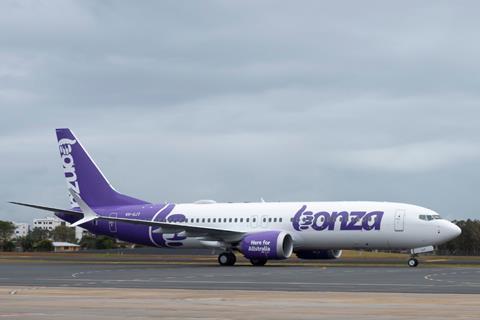 Bonza marked the opening of its Melbourne base with a flight from its Sunshine Coast hub, a route that it will fly four times a week.
Among the routes it will fly from Melbourne, Bonza says seven of them currently lack air connectivity, including to Mildura in Victoria state, as well as Tamworth in neoghbouring New South Wales.
Airline chief Tim Jordan says the carrier is keen to tap into opportunities from Melbourne, noting that the city is poised to overtake Sydney as the largest city in Australia in the next 10 years.
Bonza launched operations from Sunshine Coast on 31 January, less than three weeks after clinching its air operator's certificate.
The airline, Australia's first independent low-cost carrier in nearly a decade, is backed by Miami private equity firm 777 Partners, which also owns embattled Canadian operator Flair Airlines.
Bonza, Australian slang for excellent or first-rate, touts a different operating model from other low-cost operators: point-to-point services from secondary cities in Australia, eschewing operations within the 'Golden Triangle' of Brisbane, Sydney and Melbourne.