Korean Air saw a significant jump in its third-quarter operating profit, amid an upswing in passenger revenue following South Korea's move to ease all Covid-19-related travel restrictions.
In tentative financial results released 3 November, the carrier reported an operating profit of W839 billion ($585 million) for the three months to 30 September, a 91% increase year on year.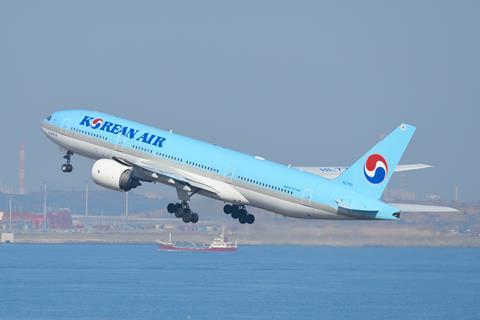 Total revenue for the quarter grew 65% to W3.7 trillion, with passenger revenues seeing a three-fold increase year on year to W1.5 trillion. Korean Air attributes the spike to a strong recovery in passenger travel demand.
Cargo, the airline's financial star throughout the the pandemic, began to show signs of weakness, though the airline saw cargo revenue go up 12% year on year to about W1.9 trillion.
"The quarter saw a drop in cargo demand due to intensified competition following the increase in passenger plane belly cargo capacity. A decrease in consumer spending due to inflation and seasonal trends have also contributed to the reduced cargo demand," states the SkyTeam carrier.
Korean Air reported a quarterly net profit of W431 billion, more than three times higher than the year-ago period.
Despite the weaker performance for cargo, the carrier is still bullish on demand, particularly in its passenger travel business.
It notes that it has secured year-end seasonal demand for cargo, helping it buffer against a weaker business outlook.
"[The] fourth quarter passenger business outlook is bullish on strong passenger demand, and the airline will continue to operate flexibly through charter and extra flights," says Korean Air.